Meghan Markle and Harry Share Successful 1st Birthday Party With Archie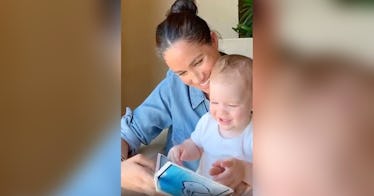 Meghan Markle and Prince Harry have had a whirlwind of a year. After Meghan gave birth to their first son, Archie Harrison, the couple extricated themselves from the royal family and began to chart out a new life for themselves in the United States. After settling in Los Angeles, the couple has been keeping an extremely low profile — only showing up in the news when snapped by paparazzi for taking walks or by helping out charities like Project Angel Food in Los Angeles.
But they're back in the spotlight (sort of) this week to celebrate Archie's first birthday — a huge milestone for the couple. Because of COVID-19, their original plans to head back to the United Kingdom to spend the birthday with Queen Elizabeth and co. have been nixed for obvious reasons, but Archie still, it appears, had a special day with just his two parents.
Instead, Markle and Harry celebrated the now-toddlers birthday by posting a video on the Save With Stories Instagram page, keeping their charitable efforts on-brand even for their son's big day. In the video, Markle reads a book with Archie called "Duck! Rabbit!" while Archie flips the pages, laughs, and is generally adorable. The heartwarming video helps efforts to fight hunger in the 30 million children who rely on school for food. The video also features Meghan and Harry (Harry is the videographer in this one) making animal noises and cheering as Archie successfully flips the pages. It's a super cute video, and it's almost more for us than for Archie.
This article was originally published on