Harry and Meghan Finally Have an Exit Date
Their new lives start very soon.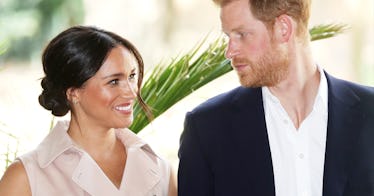 Prince Harry and Meghan Markle now have a date for when the next part of their lives will start. The couple announced in January that they were stepping down as Senior members of the family, and in the time since, the family has been working out the details of what that will look like exactly. Now the couple has an official "exit" date and more details of the agreement they made with the Queen have been made public.
Meghan Markle and Prince Harry will step down as Senior Royals on March 31, 2020. As of April 1, they will also no longer be able to use their "Her/His Royal Highness" titles, and will no longer have access to government funding, royal officials have confirmed.
This means, as of April 1, The Duke and Duchess of Sussex will no longer hold their office at Buckingham Palace, which won't be a big deal as they were already moving out. In their announcement, the pair stated that they wanted to become "financially independent," so the removal of government funds isn't a surprise to them.
However, the Queen still hasn't decided if they will be able to use the word "royal" in the future. Since The Duke and Duchess of Sussex have plans to establish their own organization called Sussex Royal, that part of the puzzle that's yet to be solved is likely causing some stress in the family.
Officials at the Palace also confirmed that Harry would be able to keep his military ranks of major, lieutenant-commander and squadron leader. But Harry will have to drop his honorary positions including serving as head of the Royal Marines. He will also continue to be involved in Invictus Games, a yearly event he started which benefits injured soldiers.
No plans have been made public on what these two will do in the future, other than some vague details of their new organization, Sussex Royal. "In addition to continuing to work closely with their existing patronages as they build a plan for engagements in the U.K. and the Commonwealth throughout the year, The Duke and Duchess have also been undertaking meetings as part of their ongoing work to establish a new non-profit organization, a spokesperson for the Duke and Duchess of Sussex says. "The details of this new organization will be shared later in the year."
It might seem like these two are giving up a lot, and they are, but they will be gaining so much as well. Freedom to live where they want, away from the negative press they've faced since their relationship went public. And, hopefully, a happy and comfortable environment to raise their son.
This article was originally published on