Meghan and Harry's Pregnancy Announcement Quietly Honored Princess Diana
The pregnancy announcement honored Diana in a subtle but very sweet way.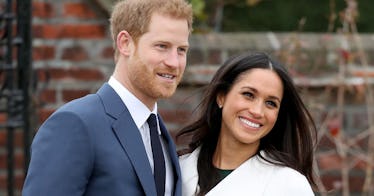 GETTY
In case you missed it, Prince Harry and the Duchess of Sussex Meghan Markle announced that they are pregnant with their second child on Valentine's Day – Sunday, February 14th. All of the congratulations deserve to go to the happy couple, who were brave and open about their journey with miscarriage in July of last year in an op-ed Markle wrote for
The New York Times. And, perhaps the best part of the pregnancy announcement, despite the joy that the couple must be feeling, is how they actually quietly honored the late Princess Diana in their announcement.It turns out that on February 14th, 1984, Buckingham Palace announced that Diana was pregnant with her second child — making it 37 years to the day since Diana announced she was pregnant with Prince Harry. Now, Markle and the Prince have announced that they are pregnant with their own second baby, who will become the younger sibling to baby Archie Harrison who was born in May of 2019 through a spokesperson."We can confirm that Archie is going to be a big brother," the couple's announcement read. "The Duke and Duchess of Sussex are overjoyed to be expecting their second child." The photo of the couple has them in black and white sitting in the grass while barefoot. Prince Harry is sitting up and staring at Meghan while Meghan lays down, resting her head on his lap and smiling up at him while holding a hand to her stomach.
Apparently, the photo was taken remotely by a photographer named Misan Harriman, a true nod to COVID-19. While it's not clear how long she's been pregnant or how far along she is, tabloids have already noticed that over the past few months, photos and appearances by Meghan have purposely hidden what was likely a growing pregnancy bump.
And while all of that is understandable, it's important to note that Meghan and Harry left the Royal world in part so they could live a more private and peaceful life. While their announcement is beautiful and their joy likely overwhelming, it's important to remember that they are people — and as basically private citizens at this point, we may never know anything else about the pregnancy at all. That's okay! That's their prerogative! Anyway, congrats to the happy couple!
This article was originally published on