Meghan and Harry Are Taking Parental Leave After Birth of Lilibet Diana
The subtle statement could end up having a big impact.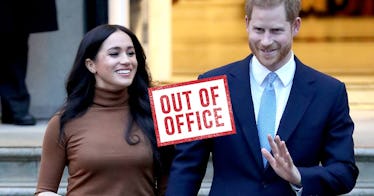 The newest royal baby has arrived – safe and sound. On Sunday, June 6, Meghan Markle and Prince Harry announced their daughter's birth on Friday, June 4, via their website. In their statement, which included all the typical details in a birth announcement, Harry and Meghan subtly mentioned they'll be taking parental leave, drawing more focus on the importance of taking time with a new arrival. Here's what we know.
"It is with great joy that Prince Harry and Meghan, The Duke and Duchess of Sussex, welcome their daughter, Lilibet' Lili' Diana Mountbatten-Windsor, to the world," a statement read. "Lili was born on Friday, June 4 at 11:40 a.m. in the trusted care of the doctors and staff at Santa Barbara Cottage Hospital in Santa Barbara, CA."
Lili is said to be "healthy and well," weighing in at 7 lbs 11 oz. The new family, which includes two-year-old big brother Archie, is already settled back at home. And they'll be focusing their time on bonding as a family, putting work to the side for now and taking a proper parental leave.
"While the Duke and Duchess are on parental leave, Archewell will continue to do important work and publish stories on the site," the birth announcement concluded. "We look forward to seeing you!"
It's no secret that Meghan and Harry have been working non-stop since they moved to the United States. They've launched their Archewell Foundation, developed podcasts and TV series, conducted exclusive interviews, wrote a book, developed series for Netflix, and continued all their charitable work.
With all that on their plates and raising Archie (and all the family drama), it's a good thing that Meghan and Harry are taking time off to be with their family. While they didn't mention how long they'll be away from work to focus on family, hopefully, it's a little longer than Meghan was able to take when she welcomed Archie into the world. Within four months, Meghan was back at work as a working royal with a jam-packed schedule that included a trip to Africa.
Studies have found, several times over, that parental leave is good for the family. It leads to better health, happier relationships, stronger parental bonding, and decreases stress. Anyone who has followed Meghan and Harry's story since stepping down as working members of the royal family and moving across the world knows they have been operating under a lot of stress.
Parental leave is something everyone should be able to access. It's vital to the family and to each member individually. And hopefully, with Meghan and Harry promoting the importance of this time, more can be done to give equal access to every family.
This article was originally published on