Megan Fox Doesn't Want You to Cancel Michael Bay Just Yet
Here's all the info on that Megan Fox/Michael Bay controversy.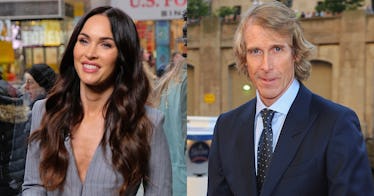 Getty
An decade-old interview between Jimmy Kimmel and Megan Fox, star of Transformers and Jennifer's Body, recently resurfaced, and because of that interview, Jimmy Kimmel, Michael Bay, and even Steven Spielberg have come under fire. In the interview, Fox talks about working as an extra on Bad Boys II — which Bay directed — when she was 15, and because she was 15 years old, being unable to sit in a bikini at the bar. Instead, Bay had her stand under a waterfall and get soaking wet. In response, Kimmel made some gross comments (suggesting that any man's mind would want to put 15-year-old Fox there, but most men have the decency to not say anything about it.)
In response, people on the internet have clamored to cancel Michael Bay, not just for this scene with 15-year-old Megan, but also for overall actions that he had made during his career. Some people seem to have gotten their facts mixed up, and suggested that while she was working on Transformers, she was also forced to audition in a sexualizing manner (nearly naked, fixing Michael Bay's car.) Fox took to Instagram to dispel those specific claims — she was 20 when she auditioned for the movie and, per her words, "for this particular audition story," nothing untoward happened and she wasn't "undressed or anything similar." She also said that — when it came to her direct experiences with Bay and Spielberg, "I was never assaulted or preyed upon in what I felt was a sexual manner."
While the comments were factually clarifying, Fox definitely makes a point to note that just because these specific experiences weren't harrowing or abusive, that doesn't mean that as a young actress in Hollywood, she didn't experience anything problematic. And although she clarified what people had thought to mean about Michael Bay, many people on the internet have come to reconsider how Megan Fox was treated in the media, by Hollywood, and how her career plummeted after speaking out against Bay's actions as a director when she was a young and burgeoning actress.
When on the press tour for Jennifer's Body, Megan Fox, perhaps stupidly, referred to Michael Bay as a "Hitler" on set. "He's a nightmare to work for," she said, but added that when he wasn't working, he was really nice and awkward and had limited social skills. Shortly after, per The Daily Beast, she was fired from the Transformers movies and, just before her firing, the Transformers crew took the opportunity to pen an open letter calling Megan Fox a "porn star," "unfriendly bitch," "dumb-as-a-rock" "Ms. Sourpants." Sources suggest that Michael Bay had enlisted the crew to write the letter. Now, fans of Fox believe she was blacklisted from Hollywood — and had a burgeoning career fall flat.
So, while Fox might be steadfast in the fact that Bay did not sexualize her in the audition or in general, that's not to say that he hadn't acted problematically towards her and her career.
This article was originally published on