You've Earned This. Get Your Free McMuffins at McDonald's Today Only
But, you'll need to act fast.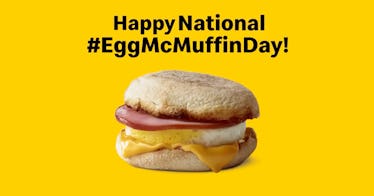 McDonald's wants us to start our work week off on the right foot food and has coined Monday "National Egg McMuffin Day." The fast-food chain said that they had started the day to celebrate the "best" fast food breakfast sandwich, which also happens to be turning 50 this year. But, it's also a call-out to their competitor, Wendy's. Here's what you need to know.
The offer is only valid today at participating US McDonald's restaurant and to find out if your local chain is offering the deal, you need to download the McDonald''s app to your phone and register an account. There, you can search which locations are celebrating National Egg McMuffin day, which will get you a free sandwich between the hours of 6am, and 10:30am.
Why today for this new promo? McDonald's says they're offering free Egg McMuffins to help with its goal of increasing the app's user base, but today also happens to be when Wendy's rolls out their breakfast menu nationwide.
"It's more of a defensive move rather than an offensive move," according to Morningstar analyst R.J. Hottovy, adding that McDonald's wants their users to keep its breakfast at the "top of mind" since Wendy's has spent nearly $80 million this year to promote their new breakfast menu.
Wendy's isn't worried, though. Carl Lordeo, Wendy's chief marketing officer, said the McDonald's holiday "is the day that the Egg McMuffin and other old breakfasts are laid to rest. No longer will people have to suffer stale, tired, old sandwiches with folded eggs and microwaved bacon
It doesn't really matter why McDonald's is offering a free Egg McMuffin, though. All that really matters is grabbing one for yourself because you've earned this. And that's a good enough reason as any.
This article was originally published on