May's Stunning Full Flower Moon Is About To Illuminate The Night Sky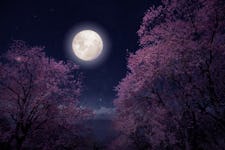 Shutterstock
Spring is in full swing, and as we hang in the middle months before summer arrives, we have lots to look forward to. And to help ring in May and say goodbye to cold, dreary months, the Full Moon that rises in May has a name that plays homage to the blooming flowers. Meet the Flower Moon!
What is a Flower Moon?
The Full Moon in May ties back to budding plants, which is where the name comes from. "May's Flower Moon name should be no surprise; flowers spring forth across North America in abundance this month," The Farmer's Almanac explains.
The May Full Moon also has many other names, but they, too, are all the same theme. These names include Frog Moon, Egg Laying Moon, Planting Moon, and Leaf Budding Moon, which all celebrate the big changes that happen on Earth during the month of May.
When and how can I watch the Flower Moon?
EarthSky says the Flower Moon will be visible before sunrise and after sunset on May 5, and The Farmer's Almanac says the moon will reach peak illumination at 1:36 P.M. ET on May 5.
However, if you and the kids can't watch the moon in the early hours of May 5, there is some extra time the night before. "Because the May full moon occurs near mid-day on May 5, the moon will look full on the overnights of May 4, 5, and 6," the publication reports.
Watching the May moon with the kids is likely to be comfortable, thanks to the mild weather. "Look for the bright round moon low in the southwest before sunrise and low in the southeast after sunset on May 5," EarthSky says.
Check out the Almanac's Moonrise Calculator to find the best time to catch the moon in your area.