This Super Groovy May The 4th Star Wars Live Stream Is The Only One That's Worth It
Let's boogie at Oga's Cantina.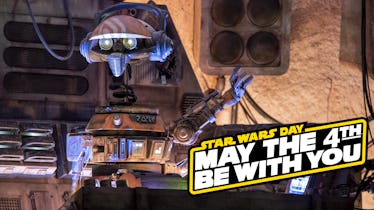 Disney Parks
May the 4th be with you! If you and the kids are fans of Star Wars, you already know today is the geekiest holiday around (in the best way, of course.) But before you blast off tonight into outer space — or really to the couch to rewatch your favorite Star Wars movies or TV shows — you should also know there's lower stakes entertainment afoot, in the form of an awesome live-streamed "DJ Set" by a droid you may know and love.
The live stream features the Galaxy's Edge character DJ R3X who will be the DJ to your festivities today from Oga's Cantina all day long. The live stream kicked off at midnight as May 3rd turned into May 4th, and will last all night long, too. So if you're not able to head to a Disney property to celebrate all things Star Wars, or if you're working from home and just want some fun tunes, or if you want to host a dance party with the kids in your living room — look no further.
All day, DJ R3X is live streaming his DJ set so you can "Batuu boogey" as he plays the greatest hits across the galaxy.
If you'd like to kick your May 4th celebrations into higher gear — maybe by being around more people who are all in on the May 4th celebrations — tickets are on sale today only to watch Return of the Jedi has been re-released in select theaters. You'll have to hurry, though, because today is the last day to watch. You can check Fandango to find a theater near you to see if any seats are still available.
And, if by the time dinner wraps up, the live stream gets shut off, and you're looking for evening entertainment, don't forget that you can start a binge of all of the movies and series. If you don't know where to start, thankfully, Fatherly has come up with four different logical approaches to showing your kids the Star Wars movies for the first time. Check out our guide that shows you the best order to watch the Star Wars saga here.