A Hero Comic Store Owner is Giving Out Free Copies of This Banned Book
After Maus was banned in McMinn County, Tennessee, a comic book store owner is stepping in.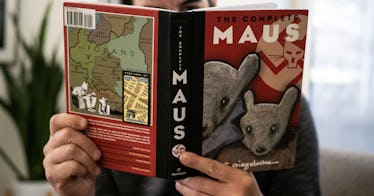 MARO SIRANOSIAN / Contributor / Getty Images
In early January 2022, the McMinn County School Board in Tennessee caused a stir when they banned a graphic novel written and illustrated by Art Spiegelman. The book, Maus, is a Pulitzer-Prize winning story of the Holocaust that the school board has taken issue with because it contains nudity — a distinction they made without considering the context within the nudity was showed, as part of a larger trend across the country of school boards banning books they consider to be "uncomfortable" or "inappropriate" for kids.
Now, a comic store owner is pushing back and offering a free copy of the book to anyone living in the Tennessee district that has banned the book.
According to The Washington Post, Ryan Higgins was a teenager when he read the book that depicts Jewish people as mice and cats as the Nazis. When Ryan read the story, it "opened [his] eyes."
"I remember thinking, 'This is about more than superheroes fighting bad guys,'" he explained. "It was heartbreaking and emotional, and it brought a whole new window to something I had little knowledge about."
The book held a lot of meaning to him and since opening his comic store, Ryan decided to keep the shelves stocked with Art Spiegelman's work. And when he caught wind of the book banning at the McMinn County School Board in Athens, Tennessee, he could not understand what all the fuss was about.
"It's just so bizarre — the actual images of the Holocaust are the most graphic, nightmare-inducing images in the world," he added. "Why take Maus out of the curriculum when it makes this horror more teachable to a wider and younger audience?"
Given his love of the book and his belief that it's an important read, he quickly bought 100 copies and decided to donate them. "I'll donate up to 100 copies of The Complete Maus to any family in the McMinn County in Tennessee," he shared on Twitter. "Just DM me your address!"