Matthew McConaughey Reveals The Secret To Becoming Friends For Life With Your Kids
McConaughey, Jason Bateman, Sean Hayes, and Will Arnett opened up about the challenges of being both "friend" and "father" to their tweens.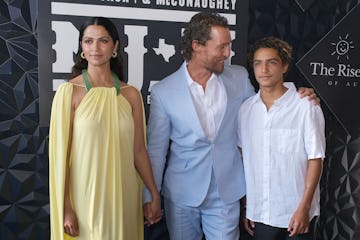 Hubert Vestil/Getty Images Entertainment/Getty Images
Matthew McConaughey knows just how tough it is to navigate your changing relationship with your kid as they age from kid to tween to teen — and his musings, roundabout as ever, might just be the balm you need today. McConaughey was a recent guest on the podcast "SmartLess," hosted by fellow actors Will Arnett, Sean Hayes, and Jason Bateman. In the episode, the four men touched on several topics, including raising kids and the importance of authenticity in fatherhood.
Arnett is a dad to two kids — Archie, 13, and Abel, 12 — and in the podcast episode, he shared an "embarrassing" story that turned out to be a really impactful, vulnerable conversation.
"I had one of the greatest conversations with one of my sons — I won't say who because I don't want to embarrass him," Arnett shared. "We were sitting there, and he was on the ground, and he had his head in his hands, and I go, 'What's going on, buddy?' And he looks up, and he goes, 'I just don't know where I fit in,'" Arnett continued.
"The fact that he was able to be honest with me at that moment. We ended up having this incredible conversation," Arnett shared. "And I don't know where it ranked for him in his short life, but in my longer life, it's one of the greatest conversations I've ever had."
McConaughy echoed Arnett's thoughts on vulnerability and its importance with his own children — Levi, 15, Vida, 13, and Livingston, 10. He shared that he's in a "transition" phase in parenting, moving from "being a father to being a father and a friend."
"As soon as you slip into a bit of the friend … they're not worried about the consequence," or getting in trouble if they "give the wrong answer," he shared. "And you're like, 'Oh, let me tell you how that was with me.'" For McConaughey, he thinks parents should work to keep "access" to their kids when they're teens and allow them to share their feelings in their own time — instead of forcing hard conversations or being a hard-liner.
"Let them be honest and go, 'I don't know where I fit in.' And to [talk about it in a way where] it's not, 'We're going to sit down and talk, look me in the eye.' No, when it's more informal, like, we're driving or doing something or taking a walk, you do find out more," McConaughey shared. "But to maintain some access and keep some honesty these years [is what] I'm trying to do."
Bateman then honestly said that he sometimes struggles with finding the balance of being a friend and dad to his two daughters — Francesca, 16, and Maple, 11.
"I feel like that's the friendship part of the relationship, but then I feel I worry sometimes, well, am I sacrificing what could be more useful to them, which is parenting, at the expense of sacrificing the friendship?" Bateman asked. "... I battle with that sometimes... trying to keep the access door open by being super friends — sometimes that's not helpful to them... They've got friends, but they've only got one Dad, one Mom."
For Arnett, though, the key to keeping that balance in his experience boils down to authenticity.
"My experience is that if you are honest with your kids in that way and you're authentic, if you can be authentic in those moments, they get it, and they can feel you being authentic," he said. "If you're not trying to get something from them, but you're just trying to relate to them, they'll be honest with you, they'll share, they'll give you that access, as long as you stay you stay in that zone — just keep it authentic that's it I think that's the key."
You can listen to the full "Smartless" podcast episode on YouTube.