Too Embarrassed To Masturbate at the Doctor's Office? The Sperm Extractor Is Here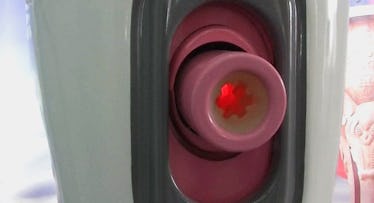 NowThis Future
A terrifying glimpse into our robot future is making the rounds on the internet. Twitter use AngryManTV posted a haunting video of the Sanwe Trolley Type Sperm Collector, an electronic masturbating machine that "can simulate vaginal environment, and through massage, twitching, sucking, vibration, etc., act upon the human penis, which can make semen collection be fast and safe," according to the online listing for the machine.
The listing also claims that the machine, invented at the Jiangsu Sanwe Medical Science and Technology Center, is useful for reducing "the excitability of nerve endings so as to passivate the nerve of glans penis, sulcus coronarius, and the surface of the penis, and regulate the sex nerve center in order to minimize nerve sensitivity, improve ejaculatory threshold to treat premature ejaculation."
The "massage pipe" can be adjusted for the height of the user, who can also adjust the speed, frequency, amplitude, and temperature of the extraction. There's also a tablet on top of the machine that can stream erotic content.
The machine has been used in Chinese hospitals since 2010, and Sanwe ships about 10,000 units per year.
But words can't really do it justice. Seeing is believing, and if you're ready to add something new to your nightmares you can check out (nudity-free) video of the $5,000+ machine in action below.
This article was originally published on