Another State May Soon Adopt A 4-Day Work Week
Two lawmakers in Massachusetts are pushing to change how the state looks at a workweek.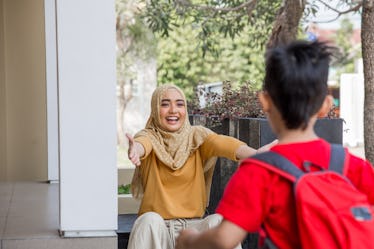 Shutterstock
Two lawmakers in Massachusetts are pushing to change how the state looks at a workweek. New legislation co-filed by Representative Josh Cutler and Representative Dylan Fernandes would allow the state to test a four-day workweek as a voluntary pilot program, reducing hours without a reduction in pay.
According to NBC Boston, the proposed legislation would allow a 2-year test run called "Massachusetts Smart Work Week Pilot," where employers willing to try out the 4-day work week and report their findings would receive tax credits for taking part in the program.
"In this era of tight labor markets, we need to get creative to keep our economy growing," Cutler, who also serves as House Chairman of the Joint Committee on Labor and Workforce Development, said on social media.
"This bill creates new incentives for Massachusetts businesses to explore shifting to a four-day work week which can offer a myriad of benefits, including boosting worker satisfaction and productivity, and reducing absenteeism and commuting time."
For businesses that wish to participate, "priority will be given to ensure that qualifying employers hail from a diverse size, occupation, industry sector, and geographical location and include participation of veteran-, women- and minority-owned businesses and businesses owned by persons with disabilities," the press release from the legislation notes.
If the proposed legislation becomes law, the state would add itself to a growing number of states and countries that are looking to have a better work/life balance for employees while keeping output the same for the employers.
The world's largest four-day workweek trial, piloted by social scientists from the University of Cambridge, found that after a six-month trial of a four-day workweek across 61 companies and more than 3,000 employees, 95% of participating companies said they would keep the new schedule moving forward and that it boosted productivity, reduced burnout, and stemmed employee turnover.
Similar trials have been successful in other areas of the world, including New Zealand, Iceland, Canada, and the U.S., with many choosing to stay on the four-day week model after the trial period ended because the results were good for everyone.