"The Maskalorian" Reminds Us That Real Baby Yodas Need Protecting, Too
"I am the Maskalorian, giver of masks."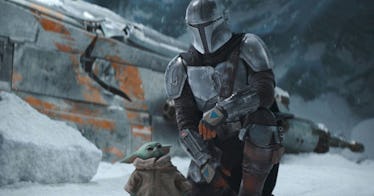 Disney+
Bounty hunting is a complicated profession, we all learned that watching The Mandalorian and Boba Fett on their infamous, badass quests. Now there's a new hunter on the scene, but it's not a fictional one — it's a real-life guy, wearing a Mandalorian suit.
But fear not: instead of finding creatures who rubbed someone the wrong way enough to get a bounty placed on their heads, sometimes killing in order to finish the job, the "Maskalorian" is on a mission to ensure people are wearing face masks. And it's totally wholesome.
According to The Washington Post, the Maskalorian is a play on the popular Star Wars character, and he's been popping up in several places around the world. He was first spotted in Austria in 2020 and has since been seen in New York and Vienna.
"I am the Maskalorian, giver of masks," the person behind the mask said during his first public appearance. "Whether you're a human or a droid, it doesn't matter. We must be vigilant and do what we can to keep each other protected."
The Maskalorian has his Baby Yoda (or Grogu, if you're a real fan)-inspired character, Masku strapped to his chest and he too is wearing a mask. Together they give away masks on the streets and bring humor to the world while reminding people that it's important we all work together to end the pandemic.
Behind the mask is Matt Adams, a 43-year-old improv performer, and filmmaker. "I just kind of wanted to see… if I [could] encourage people in a playful and humorous way," he said to the Post.
To date, The Maskalorian has given away 1,000 masks and brightened the day of so many through his funny improv. And for the most part, the interactions he's had with people have been positive. "From almost the moment I put on the helmet, I was getting reactions," Matt said.
It's not known where The Maskalorian will show up next, but until then, you can keep up with his mission on YouTube or Instagram.