Here Are The New Mask Rules For Starbucks, Walmart, CVS, And Target
After the CDC released new face mask requirements, stores are changing their policies once again.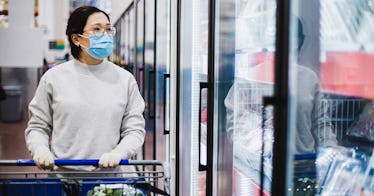 More and more Americans have been vaccinated against COVID-19. As a result of that, what is safe and what isn't safe to do for healthy, vaccinated adults has shifted. And now, for better or for worse, stores are updating their policies.
Add that to the fact that the CDC authorized the Pfizer vaccine for kids 12 and up and recently revised their mask guidances for vaccinated adults (though they left kids out of it), and stores across the country are now revising their COVID-19 operating guidelines, including their mask guidelines.
Many stores, including Starbucks, Walmart, CVS, Target, and more, have held policies like one-way aisles, social distancing, temperature checks, and mask-wearing to keep customers safe while shopping. Now, these stores are changing some of their policies.
Still, it's important to note that it's not a universal decision across the board and that each chain has a different policy. Here's what to know.
Starbucks
Starbucks is now making face coverings and masks optional for customers who are fully vaccinated. However, they note that face coverings will still be required at the locations where the state or local regulations still mandate mask-wearing.
"Facial coverings will be optional for vaccinated customers beginning Monday, May 17, unless local regulations require them by law," Starbucks said on its website. "As we continue to ensure the health and well-being of our partners and customers, our restrooms generally remain temporarily closed to the public in stores where the café or café seating is unavailable."
Walmart And Sam's Club
Walmart and Sam's Club are also relaxing their face mask requirements for employees and customers who are fully vaccinated. A memo was sent to Sam's Club and U.S Walmart employees who are vaccinated, saying they can work without the mask.
"Beginning today, vaccinated customers and members are welcome to shop without a mask, and we will continue to request that non-vaccinated customers and members wear face coverings in our stores and clubs," the letter to employees said, according to U.S. Today. "We will update the signage in our facilities to reflect this."
The company also notes that if there are local or state mandates for mask-wearing, customers and employees will need to follow that.
CVS
CVS updated its policy posting on the website saying vaccinated customers are "no longer required to wear face coverings inside our stores unless it is mandated by state or local regulations."
The statement continued, "Customers who are not fully vaccinated are asked to continue wearing face coverings, and employees are required to do so while at work."
Target
Target updated its mask policy for employees and customers saying it's no longer required for people who are fully vaccinated to wear masks, again noting that unless it's mandated by local or state ordinances.
"Face coverings will continue to be strongly recommended for guests and team members who are not fully vaccinated," the company wrote, "and we'll continue our increased safety and cleaning measures, including social distancing, throughout our stores."
Costco
Costo has also updated the face masks policy in its locations across the country. "In Costco locations where the state or local jurisdiction does not have a mask mandate, we will allow members and guests who are fully vaccinated to enter Costco without a face mask or face shield," CEO Craig Jelinek wrote in a letter to members Friday.
"Face coverings will still be required in healthcare settings, including Pharmacy, Optical, Hearing Aid," the company clarifies. "Costco continues to recommend that all members and guests, especially those who are at higher risk, wear a mask or shield."
Uber
As of today, Uber has held its mask policy unchanging after the CDC's new guidelines. "We all play a role in helping keep each other safe," the company wrote. "That's why as part of our Door-to-Door Safety Standard, riders and drivers are required to wear a face cover or mask, even when vaccinated."
Trader Joe's
Trader Joe's has updated its mask policy and will not require fully vaccinated customers to wear a mask inside the stores any longer. Trader Joe's was the first major national retailer to make the chances to its mask policy following the new guidelines by the CDC.
Of course, like every other retailer, customers and employees will still need to follow any local or state mask requirements above store policy.