Can't Find a Mask? How to Make Your Own Plastic Face Shield
Polar Seltzer has some hot tips.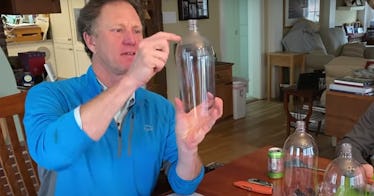 If there's one thing that the Coronavirus pandemic has revealed, it's that helpful tips and helping hands can come from the strangest of places. That Polar Seltzer, a bottled seltzer brand based in Worcester, Massachusetts, has stepped in to provide helpful tips and PPE gear for first responders and essential workers is simply a continuation on the theme of people working together to help others survive in this trying time. Polar Seltzer's way of doing it? Using their signature 2-liter plastic bottles to create face shields that can protect people outdoors from respiratory droplets that are known to spread COVID-19.
The other benefit of the plastic shield is that unlike many PPE dupes that people have been making, a plastic face shield can be washed and reused, making it a long-lasting alternative to an N95 or other official PPE materials.
Polar released a video tutorial on how to make the shields, which only takes about two minutes of work. All you need is a 2-liter bottle, weather stripping, and string. The family who owns Polar, the Stimpsons, have been doing more than just making these masks for themselves — they've also donated thousands of plastic bottles for health care workers to create their own masks and have made hundreds of them and donated those to health care workers, as well. Funnily enough, the family-owned company are calling their makeshift PPE's PPPE's — Polar Personal Protective Equipment.
All you have to do is grab a two liter plastic bottle, cut the bottom and top off of the bottle, and cut straight down the middle of the bottle to create a rounded, but flat, surface. Then you trim the edges to make them curved so the shield doesn't cut or scratch your face, stick the weather stripping on what will be the "top" of the shield (the part that rests against your face, clip some holes into the edges of the shield where the stripping is, pull a string through it, and, voila. Plastic face shield.
If all that is too involved, there are tons of no-sew fabric mask tutorials on the internet that require only bandanas and hair ties, too. The point is that being protected when you go out in public is important — and whichever way you can accessibly and easily make your own PPE is the best way to do it.