Breaking: The CDC Just Changed Its Stance on Indoor Masks
70 percent of Americans now are not recommended to mask inside by the CDC — including inside schools.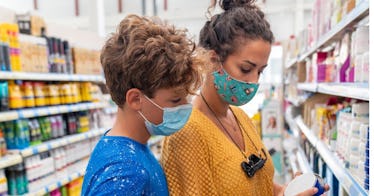 Javier Zayas Photography / Getty Images
The Centers for Disease Control and Prevention (CDC) eased federal mask guidelines on Friday, Feb. 25th. The most significant change in the mask guidance is the new metrics that will determine whether or not someone should wear a mask inside.
Now, only 28 percent of people in the U.S. live in a county for which the CDC recommends masks indoors, according to CNN.
Under the former CDC guidelines, masks were recommended in communities with a high risk of transmission. In the pandemic-ridden U.S., that amounted to roughly 99% of people in the U.S. being recommended to wear masks.
The new guidelines base mask recommendations on different metrics: not only new cases but also COVID hospitalizations and hospital capacity.
The new metrics will likely lead to people wearing masks less often in the U.S. — and would mean that masks would only be recommended in super-hard hit regions of the country.
The New Mask Rules, Explained
The changes, in short, mean that most people will not be required to wear masks indoors as a COVID precaution.
The CDC will ask localities to consider three measures to assess whether or not masks should be recommended. These measures are the number of new COVID-related hospital admissions over the previous week, the percentage of hospital beds that are occupied, and new COVID-19 cases per 100,000 people over the previous week. The CDC says they are focused largely on the strain on the health care system and the amount of severe disease in a community.
"Low" risk counties are green, "medium" risk counties are yellow, and "high" risk counties are orange.
If you live in a low-risk county, you are recommended to stay up to date with COVID-19 vaccines and get tested if you have symptoms.
If you are in a medium-risk county, you should stay up to date with COVID-19 vaccines and you should talk to your provider about whether or not you need to wear a mask if you are at high risk for severe illness and get tested if you have symptoms.
If you are in a high-risk county, you should wear a mask indoors in public, stay up to date with your vaccines, get tested if you have symptoms, and know that if you are at high risk of illness, you may need to take additional precautions, per the CDC.
Currently, 23 percent of counties are at low risk, 36 percent of counties are in the medium risk zone, and 37.3 percent are at high risk. You can use this tool on the CDC website to look up your state and county to see whether your county is at low, medium, or high risk.
The new metrics mean that more than half of counties, where 70 percent of Americans live, are at low or medium risk and will no longer be recommended to wear masks by the CDC. The CDC also says that in areas with low and medium transmission, masks won't be recommended in schools, either. However, localities can still set their own guidance.
The new guidelines will also help determine when and where people should practice social distancing, and when they should try to avoid being in crowded indoor places.
Dr. Rochelle Walensky, director of the CDC, said on the call announcing the guidelines that we "want to give people a break" when COVID-19 transmission is low, but acknowledged that conditions could change, and if another variant rises, new evaluations could be made. "If or when new variants emerge, we have more ways to protect ourselves and our community than ever," she said.
The change comes as COVID numbers are dropping nationwide. Currently, an average of about 6,000 people are being hospitalized with COVID per day, with an average of about 75,000 new cases reported daily. This is a decrease of roughly 66% since early February.
But the new mask mandates, though potentially welcome to some, will not be met happily by all. After all, children under 5 still can't get vaccinated against COVID-19 after Pfizer delayed its early application for emergency use authorization for the COVID vaccine for them. Though children mostly don't get very ill from COVID-19, some do, and vaccinating them will still help reduce the spread of COVID-19. Similarly, many immunocompromised people are still at high risk of contracting, and getting seriously ill from, COVID-19, regardless of their vaccination status.
Most States and Localities Have Already Loosened Mask Requirements
Even though the CDC guidelines have changed, in terms of how many Americans lead their lives, not a lot will be different. Forty-nine states have already announced plans to drop their indoor mask mandates — but Hawaii is holding on.
Many states have already taken the reins on masking recommendations, loosening requirements in public indoor spaces and public schools. New Jersey, Connecticut, Delaware, and Oregon were among the first states to announce end dates for in-school masking. Many other states moved to optional masking throughout February and March.
But Mask Mandates Haven't Loosened Everywhere
Masks are still required on all public transportation, including international and domestic flights. That mandate is expected to expire on March 18th, but the Association of Flight Attendants-C.W.A. expects there will be an extension of the mandate until vaccination is more widespread.
That mandate is expected to expire on March 18th, but there is significant pushback from flight attendants. The Association of Flight Attendants-C.W.A. is urging the Biden administration to extend the mandate until vaccination is more widespread.
This article was originally published on