Disney+ Adds Netflix Marvel Shows But Reminds Parents Those Shows Aren't For Kids
'Daredevil' and 'Jessica Jones' are not like 'Loki' and 'Hawkeye,' like at all.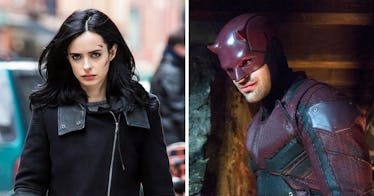 Netflix/Disney+
Good news for Marvel fans – Disney+ is bring some of its live-action series titles to the platform. The many titles, which used to live on Netflix, will be added mid-March, but the company wants to remind parents that these aren't like the other Marvel titles.
On March 16, Disney+ is adding several titles to its library, bring more from the Marvel universe all into one place. The titles hitting the platform include Daredevil, Jessica Jones, Iron Fist, Luke Cage, The Defenders, Marvel's Agents of S.H.I.E.L.D, and The Punisher, according to a Disney press release.
"Disney+ has served as the home for some of the most beloved brands in the industry, and the addition of these live-action shows brings more from the Marvel brand together, all in one place," said Michael Paull, President of Disney Streaming.
It's an exciting move for fans of the franchise because it will allow for all the timelines and characters to be viewed conveniently in one place. However, these shows are a whole lot more grown up than other Marvel titles. For example, Jessica Jones, which aired three seasons between 2015–2019, is rated TV-MA. Luke Cage, which aired two seasons between 2016–2018 is also rated TV-MA. So was Daredevil, Iron Fist, The Punisher, The Defenders… you get the point.
These TV titles, which originally hit Netflix, are way more grown up than the Marvel movies and series our kids are used to watching which are typically PG-13. Since Disney+ is committed to family-friendly content and keeping the platform safe for the younger eyes, with the new titles being added means an update to the platform's parental controls.
"When opening Disney+ for the first time on or after March 16, all subscribers in the U.S. will be prompted to update their Parental Controls," Disney+ explains in a press release tied to the new titles hitting the platform. "This includes the option to select content ratings restrictions for each profile as well as to add a PIN to lock profiles. Those that choose to keep their settings the same will continue to enjoy Disney+ as they always have within a TV-14 content rating environment, with the option to make changes at any time under Profile settings."
It's clear that Disney+ wants to make sure parents understand that although these are stories within the Marvel Universe, they're not the same.