Marvel Leak Reveals Title Design For 'Hawkeye' TV Series. But What About Clint's Daughter?
Here's what a bunch of new Marvel shows and movies will look like when the credits roll...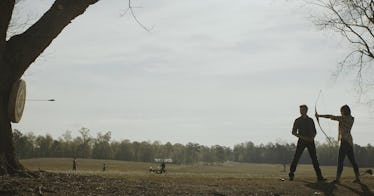 Credit: Marvel
Is another Disney+ show about to undo some big plot points from Avengers: Endgame? A new look at the Hawkeye TV series has led to some big questions.
There aren't any trailers yet for the next phase of Marvel movies and Disney+ TV series, but that doesn't mean there's not a bunch of crazy information about them floating around. Loki will be a show about time travel. WandaVision is somehow going to be a show about 1950s domestic life. Natalie Portman is going to be the new Thor. Tony Stark might come back from the dead. You get it. What's clear is that the next phase of Marvel won't be like what's come before, and not just because Spider-Man won't be there. But now, we might know what a lot of this stuff will look like, specifically the opening title of the Hawkeye series.
On Sunday, a video leak hit Reddit showing off all of the title sequences for the upcoming Disney+/Marvel TV series, including a longish look at the upcoming Hawkeye TV series presumably surreptitiously shot at last month's D23 expo.
If you think that Hawkeye title sequence has a little bit of sixties flair to it, you're not crazy. In fact, as of this week, Jonathan Igla, known for his writing on Mad Men, was named showrunner of the new series. In it, Jeremy Renner will return as Clint Barton, but the twist is he'll be training a new Hawkeye: Kate Bishop. Right now, this seems to differ from what we saw at the beginning of Endgame, in which Clint referred to his daughter as "Hawkeye." Will the Hawkeye show change the continuity of Endgame? Is Kate Bishop replacing Clint's daughter? Is Kate Bishop Clint's daughter? What's going on?
Right now, it's totally unclear how the various Marvel shows will work with the definitive ending of Avengers: Endgame; after all, WandaVision is set to bring Vision back from the dead and Loki will apparently focus the time-traveling version of the character who somehow isn't also the guy who got killed by Thanos. In other words, the new Marvel shows are all nuts.
But, if this title sequence leak is any indication, it all looks great and will be exactly the kind of nuts we can get behind.
Hawkeye has no release date. Disney+ launches on November 12 along with its first original show, The Mandalorian.