Marvel Just Released an Alternate-Post Credits Scene For 'Iron Man'; 11 Years Late
Check out a totally different version of Nick Fury and Tony Stark's famous convo in the original movie.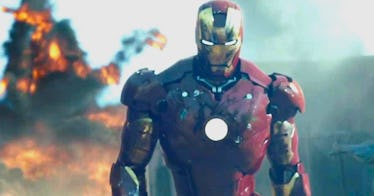 Credit: Marvel Studios/Paramount
Back in 2008, Samuel L. Jackson's Nick Fury emerged from the shadows to talk to Tony Stark (Robert Downey Jr.) about "the Avengers initiative." Now, 11 years and more than 20 films later, Marvel has released an alternate version of that famous post-credits scene, and it's pretty surprising. Not only is the scene a bit longer than the 2008 release, but it also somehow teases both Spider-Man and the X-Men, even though neither was anywhere close to the MCU at that point in time.
On Saturday, at the Saturn Awards, Marvel boss Kevin Feige screened an alternate version of the famous Nick Fury post-credits scene. You can watch it right here.
In the scene, Nick Fury complains about "assorted mutants" and "radioactive bug bites" obvious references to both Spider-Man and the X-Men. At the time, in 2008, Iron Man was distributed by Paramount Pictures, and the umbrella term of "Marvel Studios" and the idea of the Marvel Cinematic Universe was still fairly new. Obviously, the rights issues to the X-Men were still owned by Fox at that point, and Spider-Man was still with Sony. Still, it seems like this scene cleverly got around those issues by not outright naming Spider-Man or the X-Men, specifically. (Though, it's conceivable that the term "mutants" was maybe too far, in terms of legality at the time.)
The interesting thing is, that now, of course, Spider-Man has been a part of the MCU, and the X-Men are set to be incorporated into the new Marvel canon at some point in the future. But now, it's almost like Marvel Studios is retroactively saying that the X-Men were always a part of these movies because, in a sense, Tony Stark and Nick Fury already had a conversation about them. We just didn't see that conversation the first time around.
At this time, there's been no official announcement about reboot X-Men films in the MCU. But, that could change any day now.