Biden Wants Your Kids to Go To Mars — Really
Biden and NASA are pushing to get people to Mars by 2040.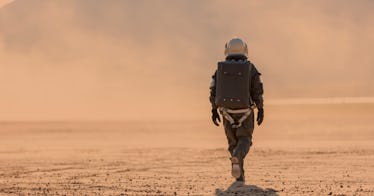 Nisian Hughes / Getty Images
Becoming an astronaut is a pretty common dream for kids in kindergarten. Going to Mars or orbiting the Earth is just one of those things that captures the minds of our kids. It seems outlandish and a dream too far out of reach. But is it really that far out of reach?
Not anymore, due to a new budget proposal from the Biden administration that makes a Mars visit in our lifetimes seem like it could genuinely become reality — and just when our kids are old enough to join NASA. (And, of course, there's that space hotel that plans on welcoming guests in the next five years…)
According to Space.com, as part of President Biden's annual budget request — a document that lays out the funding and policy priorities of the administration from child care to mental health services — the White House has also requested $26 billion for NASA to fund Artemis moon landings. And part of that plan is to send people to Mars by 2040, just in time for our kids to graduate from a STEM field and join NASA.
"Our goal is to apply what we've learned living and operating on the moon and continue then out into the solar system. Our plan is for humans to walk on Mars by 2040," agency administrator Bill Nelson said during the State of NASA address which was viewable via Livestream on March 28. That's right: 2040! That's only 18 years away from now!
Space technology, Earth science, and Moon and Mars exploration are priorities in the Biden administration budget proposals. And with the plans to head to Mars in the next 18 years, the budget for 2023 was increased by 8 percent from what was allocated for 2022.
The increase in budget is meant to help grow the Artemis program which aims to send astronauts to the moon with an aim to develop an ongoing presence on the lunar surface. The first human landing aboard the Artemis 3 is tentatively scheduled to happen in 2025, with more being likely the following year. According to the agency's "moon to Mars planning manifest," the Artemis 5 is scheduled for 2028, with more landings in 2029, 2030, and 2031.
So, if your kiddo is showing an interest in space technology and pretends to go on adventures to Mars using their imagination, now's a great time to help foster that dream.