Mark Zuckerberg Dismisses Online 'Privacy Bill of Rights' for Kids
The Facebook founder was forced to address the topic of children's online privacy at yesterday's Congressional hearing.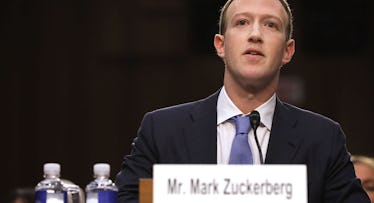 Getty Images
Yesterday, Facebook founder Mark Zuckerberg was forced to testify at a Senate committee hearing about his company's failure to protect its users' personal data in the wake of the Cambridge Analytica scandal. During the hearing, Zuckerberg was asked about myriad controversial topics surrounding Facebook and the internet in general, including his concerns about the privacy and safety of children online.
Senator Ed Markey, a Democrat from Massachusetts and the author of the 1999 Child Online Privacy Protection Act (COPPA), pressed Zuckerberg about the lack of accountability sites like Facebook have had ensuring children are protected online. Just this week, YouTube has been accused of collecting the data of its child users. Markey asked Zuckerberg if he would be willing to support a 'Privacy Bill of Rights' for children under the age 16, a bill he and Senator Richard Blumenthal (D-CT) recently proposed.
While Zuckerberg acknowledged that child safety and privacy online was a concern for Facebook, he resisted endorsing the idea of a 'Privacy Bill of Rights' for children. He told Markey that privacy is "an important principle" that "deserves a lot of discussion," but he would not go so far as to support the Senator's proposal.
"I don't know if we need a law," Zuckerberg said, referring to the Privacy Bill of Rights.
In addition to protecting all online users from having their data secretly mined without consent, Markey's bill would put even stricter measures on how websites like Facebook collect data on kids below 16. Markey told NPR that since COPPA was created before Facebook and other social platforms emerged, it does not adequately protect users from being exploited for profit.
"My hope is that this hearing will help to illuminate the gaps that exist in American law in terms of really providing protections to the families of our country," Markey said.
This article was originally published on