Marie Kondo Is Accidentally Admitting Her Magic Doesn't Work For Parents of Toddlers
Kids and the KonMari method don't mix.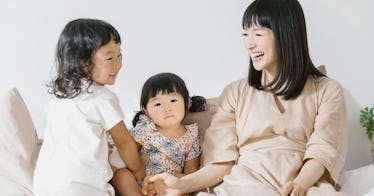 Marie Kondo/Instagram
If I were to invite Marie Kondo to my house right this second, I'd legit wonder if she would lose her signature calmness upon seeing the piles of unfolded laundry and toys taped to the wall. As a parent with four kids, I have a different version of cleanliness than Marie Kondo shares with her KonMari method. It's not that I don't love things that spark joy or find a tidy home to be more pleasant, but I have kids—and kids and KonMari techniques don't mix. But I do find some solace in the fact that Marie Kondo herself accidentally admitted that her tidy magic doesn't work for parents who have young kids.
In an interview with Parents, discussing her new children's book, The Life-Changing Magic of Tidying Up, Kondo opened up about her home life with her two kids. She, too, is in the thick of parenthood, like me, and admits that even with her being so passionate about a clutter-free home, she can't keep up either.
"Kondo says she was frustrated after becoming a mom because she couldn't keep her house in the same neat order as before she had kids," the interviewer says in the Parents article. "And when she became a mom of two, she says she didn't even have the energy for her own favorite tidying tips."
Now, I'm not over here laughing as much as I am feeling better about the state of my own home, but her admission does make me smile. Parenthood is hard and as much as her Cleaning Up With Marie Kondo show on Netflix makes us believe that we can take charge of this area of our life, she's honest in saying that when kids come in the mix, all that goes out the window.
"Motherhood taught me to be more forgiving of myself," Kondo writes in an article on her KonMari blog. "The joy that comes from parenting exceeds any satisfaction that could have come from a perfectly neat home."