Maps Shows Which Schools Have Closed or Gone Remote Because of COVID-19
Omicron isn't giving parents a break.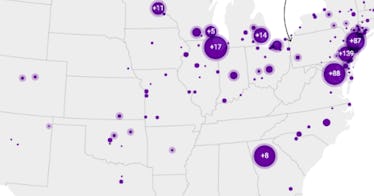 Burbio
If the start to 2022 feels like deja vu, you're not wrong. The upswell in Covid-19 cases sweeping the nation is eerily reminiscent of that year of years 2020 when the entire country ground to a halt. School districts from the west coast to the eastern seaboard have announced closures and delays in the wake of the Omicron variant giving us the metaphorical middle finger, and parents are feeling the pain of virtual learning once again.
Online school-status checker Burbio collates which districts are closed to in-person learning, or have their reopenings delayed or otherwise disrupted because of the virus, and the data it shows is startling, to say the least. The website was created specifically to monitor Covid-related closures and delays so the data presented does not include weather-related closures. School districts in Atlanta, Washington D.C., Chicago, and many others announced a late return from winter break, opting to start the new year virtually instead. (Though in Chicago, that led to Mayor Lori Lightfoot locking teachers out of their virtual Google Classrooms, leading to school being off entirely.)
All in all, over 5200 schools announced delays or closures as of January 2, 2022. And with Omicron still raging, it's hard to see that things will be significantly better by Monday.
The highly contagious Omicron variant is spreading like wildfire. According to reporting by Reuters, the number of Covid-related hospitalizations rose by 40% in the last week, and in New York City, one in three Covid tests came back positive last week.
In the midst of it all, working parents are left struggling to find solutions. Many offices reopened in 2021, allowing parents to return to work while their children attended in-person learning. However, the highly, highly transmissible Omicron variant (at least temporarily) put the kibosh on that for many families. Delayed returns to in-person learning after winter break are leaving parents scrambling to find childcare or transition back to the work-from-home model we had a love/hate relationship with for much of 2020 and 2021.
Another thorn in parents' sides is the abruptness of delay or closure announcements. Some Atlanta area schools didn't announce the delayed openings until Saturday, meaning parents had one day, a Sunday, to make arrangements to accommodate virtual learning for their children.
Some districts, however, are committed to continuing in-person learning, despite the surge of positive tests. New York City mayor Eric Adams, who was sworn in over the New Year's weekend, pledged to keep all NYC public schools open. And in Washington D.C., all school staff and students were required to upload proof of a negative Covid test before returning to school. Washington D.C. schools started the week virtually but have since resumed in-person learning.
The spate of delayed openings feels a lot like the spring of 2020 when nationwide closures left families in the lurch. After a relatively normal fall semester, many parents are waiting for the other shoe to drop. And in light of the recent cessation of the Child Tax Credit payments, many families are bracing for the worst. To check out Burbio's fully interactive map and other data points like charts and graphs, go here.