Plan Ahead! This Map Shows the Best Cities In the US to Retire
Hint: The Sunshine State is a great state for retirees.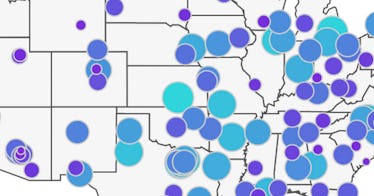 WalletHub
Retirement may not be in your immediate future but no matter how far away you are from never having to work again, it never hurts to start planning. And one of the most crucial decisions you'll face when it comes to retirement is where you'll decide to call home for your final chapter. Fortunately, WalletHub compiled a list of the best and worst cities to retire in order to make your decision a little easier.
WalletHub ranked 182 cities, giving each a score based on affordability, activities, quality of life, and health care, all of which are extremely important factors for anyone in the retirement phase of life. And unsurprisingly, if you are looking for the absolute best retirement experience possible, you are going to want to head down to Florida, which managed to land four spots on the list of the top 10 best cities.
Orlando specifically grabbed the top spot, thanks in large part to its affordability and activities (you can go to Disney World and Universal Studios!). Tampa was fourth on the list, while Fort Lauderdale and Miami were ranked eighth and ninth.
But if Florida isn't your bag, there are plenty of other places you can go to bask in the glow of retirement. Charleston fell just behind Orlando, followed by Scottsdale and Minnesota rounding out the top 5. If you want weed to be a part of your retirement life, head to Colorado, which got the sixth spot thanks to a plethora of great activities. Cincinnati (seventh) and Atlanta finished out the top 10.
Source: WalletHub
As for the worst cities, retirees would apparently do well to avoid San Bernardino at all costs, as it was in the bottom 10 for activities, quality of life, and health care. Newark also didn't fare so well, with Bridgeport, Spokane, and Rancho Cucamunga filling out the bottom five. Wichita (sixth), Detroit (eighth), and Arlington (tenth) are also terrible for retirement thanks to low quality healthcare, while Vancouver (seventh) and Jersey City (ninth) are way too expensive.
You can see the complete rankings here.
This article was originally published on