This 2021 Map Proves Everyone and Their Mother Moved to One State
People are leaving New Jersey and New York to head to one state in particular.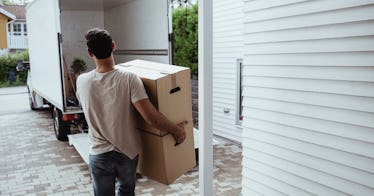 Getty / Maskot
United Vans, the largest moving company in the United States, released its 45th annual National Movers Study, which shows what states people are flocking to and which states people are exiting in droves.
There are plenty of reasons people may choose to move to one state or another but it's no coincidence that six of the 10 inbound states — Vermont, South Dakota, West Virginia, Alabama, Oregon, and Idaho — are among the least densely populated states in the country.
With the pandemic normalizing the possibility of remote work, many people are choosing to leave behind overpopulated areas in favor of places that offer more space at a reasonable price. The notable exception is Florida, but despite having the third-highest population in the country, people are still heading to the sunshine state at a high rate. Maybe it's just because of the weather?
Top 10 Inbound States
Vermont (74 percent inbound migration)
South Dakota (69 percent inbound migration)
South Carolina (63 percent inbound migration)
West Virginia (63 percent inbound migration)
Florida (62 percent inbound migration)
Alabama (62 percent inbound migration)
Tennessee (62 percent inbound migration)
Oregon (60 percent inbound migration)
Idaho (60 percent inbound migration)
Rhode Island (59 percent inbound migration)
Top 10 Outbound States
New Jersey (71 percent outbound migration)
Illinois (67 percent outbound migration)
New York (63 percent outbound migration)
Connecticut (60 percent outbound migration)
California (59 percent outbound migration)
Michigan (57 percent outbound migration)
Massachusetts (57 percent outbound migration)
Louisiana (56 percent outbound migration)
Ohio (56 percent outbound migration)
Nebraska (55 percent outbound migration)
This article was originally published on