This Map Shows Just How Much More Expensive Rent is in Each State Now
Rental prices for homes jumped to an all-time high.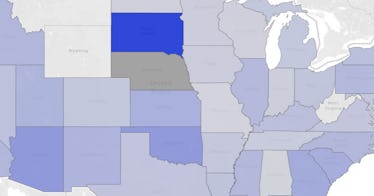 Rent.com
Looking at the cost of anything these days is enough to induce a bit of panic. From the cost of groceries to the cost of gasoline, the costs of basic necessities have grown higher and higher. Rent, one of the most basic payments that many millions of Americans have to pay monthly, is just one of those things that has exploded in cost. A study from mid-February had found that rents jumped in many cities by at least 40 percent. And a new map shows that those kinds of rent cost explosions are actually not even the worst Americans are seeing right now.
Rent.com wanted to find out the average rent prices nationwide, and how much they've jumped, so they looked into March 2022 data from Rent.com's rental property inventory and Apartment Guide numbers. "From there, we evaluated changes seen since March 2021," the publication explained. They then took the average based on the month as a whole to determine the monthly price used in the calculation.
"Despite minor relief in one-bedroom prices nationally, the rental market remains red-hot for both apartments and houses," they concluded. And rental prices for homes went up to an all-time high at an average increase of 7.8 percent. Adding, "Of the markets in our analysis, 97.7 percent recorded price increases for one-bedrooms and all markets saw increases for two-bedrooms."
The numbers are startling. Nationwide, there's been a whopping rent increase of 24.4 percent for one-bedroom rentals and a 21.8 percent increase for two-bedroom rentals. But not all states are the same. Some have seen way more explosive cost growth than others. 97 percent of states have seen "significant increases in rent prices" for one and two bedrooms and, apparently, the only place where one-bedroom apartments are cheaper than last year is Nebraska.
The highest rates of rent cost increases were seen in South Dakota and Oregon with a year-over-year jump of 114.7 percent and 94.7 percent, respectively. Rhode Island became 87.03 more expensive, and Arizona, Oklahoma, and Florida all nearly became 50 percent more expensive.
Even in states that have exploded more moderately in price, states are still seeing average rents hit 10, 20, and 30 percent more expensive than this time last year.
Rent.comThe website also went a bit more granular to find the cities across the country that saw rent increases, too.
The top five cities that saw the biggest jumps in rent for one-bedroom apartments:
Long Beach, CA (+56.7 percent)
Chandler, AZ (+50.8 percent)
Amarillo, TX (+46.6 percent)
Huntington Beach, CA (+44.9 percent)
Jersey City, NJ (+43.6 percent)
The top five U.S. cities that saw the biggest jumps in rent for two-bedroom apartments:
Fresno, CA (+71.3 percent)
Huntington Beach, CA (+55.2 percent)
Little Rock, AR (+45.0 percent)
Salt Lake City, UT (+43.2 percent)
Augusta, GA (+38.7 percent)
The full interactive mapRent.com.