This Map Shows the Countries With The Best Mental Healthcare In The World
If you're looking to move, might want to choose one of these countries.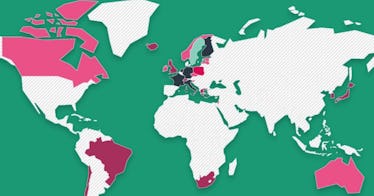 William Russell
We can all agree that these past few years have been really hard and our mental health has taken a toll. As we start to shift some focus on prioritizing mental health, and with remote work more widely available, families are looking to find the best balance. And for some, that means moving to another country. If that's something you've though of, this map of the countries with the best mental healthcare in the world might help.
William Russell wanted to find out which countries offered the best in terms of mental health supports. To find the answer, they analyzed a number of countries based on a few different factors. They looked at different metrics including countries with longer work hours, the availability of green spaces, average rainfall and temperature, leisure and personal time, and government spending on mental health.
"Each country was given a normalized score out of ten for each factor, before taking an average across all the factors to reach our final score out of ten," William Russell explained. "Thus, there is an urgent need to address this huge problem."
So which countries offer the best mental healthcare in the world?
Coming out on top is Sweden, which received a positive mental wellbeing score of 7.13 out of ten. "The Nordic nation ranked high for the percentage of green space, as it plays host to lush coniferous forests that take up the majority of its land providing the perfect environment for relaxation and mental wellbeing."
Following was Germany, with a score of 6.6 out of 10. "The central European nation works hard to remove the stigma from mental illnesses, providing an extensive support network and programs to help integrate people with mental illnesses into society."
And rounding the top three was Finland, with a score of 6.47 out of 10. Finland ranks high for environmental factors, green spaces, and least rainfall. "Finland has a healthy work-life balance, ranking in the top 10 for both least employees working long hours and most time devoted to leisure."
The bottom of the list included Iceland, Chile, and Poland. They all scored low in government mental health spending and work hours.
The data set provided didn't include any statistic for the United States. However, looking at the latest report from Mental Health America (MHA) it's clear that the country could do a lot more for people who struggle with mental health.