Map of the Safest, and Least Safe Cities in America Will Have You Grabbing Winter Gear
What's the deal with cold winters and safe cities?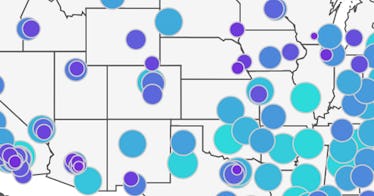 WalletHub
When you are deciding where to live, there are a lot of factors to consider. Average commute time, friendliness of neighbors, the amount of green space, the qualities of schools — all of this stuff in instrumental in figuring out where you want to spend, say, the next decade or so of your life. But while you obviously want your family to be safe, it's hard to really know which cities are safe and which aren't, and actually, what a safe city really even means. Luckily, Wallethub created a ranking of the safest cities in America to help you out — and it's actually pretty nuanced.
To determine the safety score of each of the 182 cities, Wallethub assessed three categories: home & community safety, natural disaster risk, and financial safety.
They also used data of deaths of COVID-19 in the past week per capita, rates of reported assault, the unemployment rate and road quality. Financial safety includes states that have access to affordable mortgages and affordable health care. (Lack of affordable health care bankrupts many millions of Americans all the time.)
It's very interesting that Wallethub would include climate safety — as the effects of climate change will surely induce climate-based migration that in many ways is already happening. From there, each city was given a score out of 100. And these were the results.
If Wallethub's fairly inclusive definition of "safety" is your priority, you are best off heading to the East Coast, as each of the four top-ranked cities was close to the Atlantic. Columbia, Maryland grabbed the no. 1 spot thanks to having the best home & community safety in the entire country, followed by South Burlington in Vermont, Nashua in New Hampshire, and Yonkers in New York.
If coastal living isn't your thing, you could head to Wisconsin, as Madison (which was recently named the most neighborly city in America) rounded out the top five thanks to top scores in home & community safety and financial safety. Here is the entire top 10:
Columbia, MD (87.83)
South Burlington, VT (85.04)
Nashua, NH (84.38)
Yonkers, NY (84.04)
Madison, WI (83.26)
Portland, ME (82.98)
Warwick, RI (82.36)
Raleigh, NC (82.27)
Burlington, VT (81.83)
Winston-Salem, NC (81.07)
As for the least safe cities, you may want to avoid moving your family to St. Louis, which was the only city not to break 50 due to terrible rankings for home & community safety and financial safety. Fort Lauderdale, Florida barely fared any better, followed by San Bernardino, CA, and Oklahoma City. Memphis, Tennessee finished out the bottom five, as it had the lowest financial safety of all 182 cities. Here are the 10 least safe cities in the United States:
St. Louis, Missouri (47.64)
Fort Lauderdale, FL (50.69)
San Bernardino, CA (58.02)
Oklahoma City, OK (58.54)
Memphis, TN (60.51)
Baton Rouge, LA (61.32)
Birmingham, AL (61.33)
Anchorage, AK (61.87)
St. Petersburg, FL (62.64)
Lubbock, TX (62.89)
Source: WalletHub
If you'd like to see where your city ranked, you can see the entire list here.