This Map Shows The Most Popular Hot Sauces In Each State
Do you like "regular hot" or "as hot as it gets?"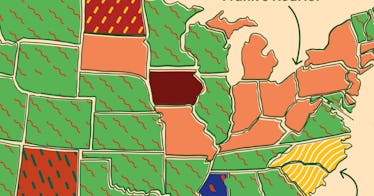 Instacart
There are two types of people in the world: the ones who love spicy food and the ones who think black pepper is too spicy. When there's a difference in taste that extreme being able to tailor our plates to our tastebuds is essential. And that's probably why hot sauce is a condiment that can be found in most people's fridges. No sauces are made the same, but this map shows us the most popular ones in each state.
Instacart wanted to find out which hot condiments were the favorites around the country since National Hot Sauce Day us around the corner. The company enlisted the help of The Harris Poll to collect the data using Instacart purchase and survey data to uncover America's hot sauce preferences.
An online survey was conducted in the US by The Harris Poll on behalf of Instacart from December 20-22, 2021. Over 2,000 people 18 and up participated, with 1,422 of those participants saying they eat hot sauce. They then put the data, including what the favorite spicy sauce in each state was, into an easy-to-read map.
But there are a few interesting data standouts first. Firstly, Americans like it spicy. Seventy-four percent of poll respondents said they like to eat hot sauce with their food, and 67 percent admitted they're "passionate about their favorite brand of hot sauce."
And the spice-heat factor is important, too. More than 59 percent of hot sauce eaters said they "prefer the heat level of their hot sauce to be hot." Forty-six percent said they like "regular hot" while 14 percent like "as hot as it gets."
So, what's the favorite hot sauce in each state, and which hot sauce is the most popular in the country?
Taking home the top spot is Huy Fong Sriracha, which was named the most popular in 31 states. In second place is Frank's RedHot with 14 states naming this brand their favorite. Cholula took home third place, and the top five were rounded out with Burman's and Tapatio.
Which state likes their sauce the most?
According to the data collected by The Harris Poll on behalf of Instacart, there are five states that eat more than others:
North Dakota eats approximately 5.4 ounces/customer
New Mexico eats approximately 4.4 ounces/customer
Colorado eats approximately 4.0 ounces/customer
California eats approximately 3.5 ounces/customer
North Carolina eats approximately 3.1 ounces/customer
What are these people using their sauces on? It's a mix of traditional and non-traditional pairings including tacos and wings or vanilla ice cream or popcorn. We're taking notes.
This article was originally published on