This Map Shows the Most Popular Thanksgiving Pies
Wait! Apple pie isn't universal across the country?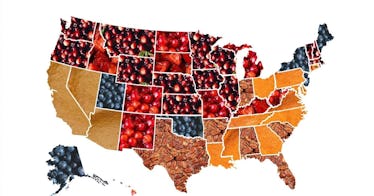 Credit: Facebook / Instagram
There are so many things that are going to be different about Thanksgiving this year. A lot of families will be having their meals together virtually. Others have to miss out on the laughs, fights, and fun that happens when we're all together with our extended family. But one thing will remain the same: many of us will be eating pie for dessert—and a new map shows the most popular Thanksgiving pie in your state.
Other than the focus of getting together with family, which can't happen this year, Thanksgiving is also about the food. We look forward to filling our plates and bellies with turkey, all the fixings, and underestimating how much gravy we'll need to make. And Thanksgiving is arguably one of the only times we can eat 2 full plates of food and still squeeze enough room for a dessert pie.
Everyone has their favorite pie, the one they look forward to before the main meal even starts. Instagram was interested in finding out which pie was the most popular per state, and there were some big surprises. According to the company's post, they used data collected based on the pies mentioned by each state in both the Feed and Stories in Nov. 2020.
Taking all that information, Instagram put it into map-form, showing which pies were the most talked about in each state. In total, eight different pie flavors made it into the data: apple, pumpkin, pecan, cranberry, blueberry, cherry, strawberry, and sweet potato.
To our surprise, and plenty of people on the internet, the most popular pie for Thanksgiving wasn't apple, not even pumpkin or sweet potato pie. According to the data collected by Instagram, the top most popular pie for Thanksgiving in the United States is cranberry pie.
bad