Map Shows the Most Popular Girl Scout Cookie in Each State
Unsurprisingly, Thin Mint was all over the map.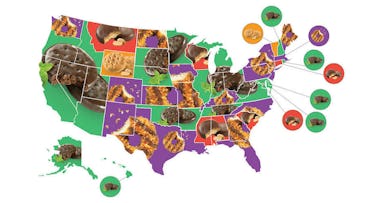 Influenster
It's officially Girl Scout cookie season, which means that all around the country people are storing up on their favorite delicious treats. And just as important as eating the cookies themselves is debating which cookie reigns supreme with friends, family, co-workers, and anyone else you know. Because while you may be Team Tagalong or a proud member of the Samoa Squad, does the rest of America agree with you? Luckily, we may finally have an answer, as there is a map that shows which Girl Scout cookie is the most popular in all 50 states.
The map was created by Influenster back in 2017, as they asked 5,054 cookie connoisseurs around the country to name their favorite cookie and then determined which cookie was the most popular in each state. Unsurprisingly, Thin Mint came out on top, as it was the top cookie in 24 states. Thin Mints appear to be especially popular on the West Coast, as California, Arizona, Oregon, and Nevada all picked them as number one.
Caramel deLites/Samoas made a strong showing and landed in second place with 18 states, including Florida, Texas, and New York. Peanut Butter Patties/Tagalongs managed to win nine states, while the residents of Vermont and Wyoming declared their love for Do-si-dos/Peanut Butter Sandwiches. Trefoils, Lemonades, Thanks-A-Lot, Savannah Smiles, Trios, and Toffeetastic managed to get shut out entirely, while S'mores did not come out until after the map was made. Check out the map below to see what cookie your state chose, along with the list of every state's cookie selection.
Alaska: Thin Mints
Alabama: Peanut Butter Patties/Tagalongs
Arizona: Thin Mints
Arkansas: Thin Mints
California: Thin Mints
Colorado Caramel deLites/Samoas
Connecticut: Peanut Butter Patties/Tagalongs
District of Columbia: Peanut Butter Patties/Tagalongs
Delaware: Thin Mints
Florida: Caramel deLites/Samoas
Georgia: Caramel deLites/Samoas
Hawaii: Thin Mints
Iowa: Caramel deLites/Samoas
Idaho: Thin Mints
Illinois: Thin Mints
Indiana: Thin Mints
Kansas: Caramel deLites/Samoas
Kentucky: Caramel deLites/Samoas
Louisiana: Caramel deLites/Samoas
Massachusetts: Caramel deLites/Samoas
Maryland: Thin Mints
Maine: Caramel deLites/Samoas
Michigan: Thin Mints
Minnesota: Thin Mints
Missouri: Caramel deLites/Samoas
Mississippi: Peanut Butter Patties/Tagalongs
Montana: Peanut Butter Patties/Tagalongs
North Carolina: Caramel deLites/Samoas
North Dakota Caramel deLites/Samoas
New England: Thin Mints
New Hampshire: Thin Mints
New Jersey: Caramel deLites/Samoas
New Mexico: Caramel deLites/Samoas
Nevada: Thin Mints
New York: Caramel deLites/Samoas
Ohio: Thin Mints
Oklahoma: Thin Mints
Oregon: Thin Mints
Pennsylvania: Caramel deLites/Samoas
Rhode Island: Thin Mints
South Carolina: Peanut Butter Patties/Tagalongs
South Dakota: Thin Mints
Tennessee: Thin Mints
Texas: Caramel deLites/Samoas
Utah: Thin Mints
Virginia: Thin Mints
Vermont: Do-si-dos/Peanut Butter Sandwich
Washington: Caramel deLites/Samoas
Wisconsin: Peanut Butter Patties/Tagalongs
West Virginia: Thin Mints
Wyoming: Do-si-dos/Peanut Butter Sandwich
This article was originally published on