This Map Shows The Most Natural Disaster-Prone Areas In The U.S.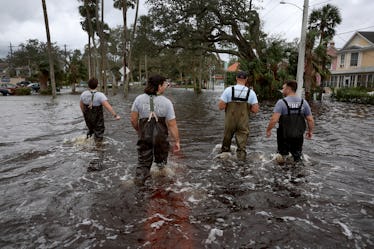 Joe Raedle/Getty Images News/Getty Images
Natural disasters are happening more and more, thanks to climate change and other factors. With these increases in frequency — and intensity — of natural disasters, researchers have noted some areas across the United States are more vulnerable to disastrous and somewhat inevitable events than others, and Forbes Advisor put it all together on an easy-to-read if disquieting map.
To find out which areas in the U.S. are more prone to these natural disasters, Forbes analyzed the number of Federal Emergency Management Agency disaster declarations made over the past ten years for each of the 200 most populated counties.
"Over the past five years, the U.S. has experienced an average of 17.8 natural disasters each year," Forbes notes. "That included 18 climate disaster events in 2022, which caused a total of $169.8 billion in damage, according to the National Centers for Environmental Information."
There were some key takeaways for families living in areas that are more prone to natural disasters, including:
States on the coast are the most impacted by natural disasters.
Hurricanes and fires were the most common disasters in the top 10 counties most impacted.
Only 10 of the top 200 most populated counties did not declare a disaster over the past decade.
Between Jan. 2013 and Jan. 2023, 95% of the 200 most populated counties declared a natural disaster, and 88.5% of all U.S. counties declared a natural disaster during this time.
The map underscores a previous finding from researchers at The University of Vermont Gund Institute For Environment that concluded that over the past decade, despite the risk of natural disasters, people have been moving into these highly prone natural disaster areas, particularly counties with high wildfire frequency and high hurricane frequency.
The Most Disaster-Prone U.S. Counties
Los Angeles County, California
East Baton Rouge Parish, Louisiana, and Orleans Parish, Louisiana
Riverside County, California, and Jefferson Parish, Louisiana
Washoe County, Nevada, and Sonoma County, California
Charleston County, South Carolina
Duval County, Florida, and Ventura County, California
Greenville County, South Carolina, and Manatee County, Florida
To read the full report, visit Forbes Advisor.