This Map Shows the Happiest, and Least Happy States in the US
With 40% of people reporting anxiety or depression, happiness is something we could all benefit from.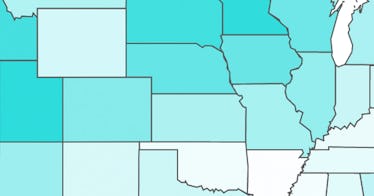 WalletHub
Have you ever been wondering if the grass is greener on the other side — or across state lines? Well, fear not, because a new survey from WalletHub highlights which states across the country are the happiest to live in and which are the least happy.
If you're concerned that it's all gloom and doom where you live, you might want to check out this map, although it's good to remember that the idea of "happy" is subjective, the survey considered several indications of happiness and then compiled the data in an easy-to-read map and it might help you think about continuing to celebrate the joys your life or uprooting it altogether.
WalletHub wanted to find out which states across the country promote the most happiness, especially as we start to crawl out of everything the last year-and-a-half has brought with it. For example, the COVID-19 pandemic had a significant impact on our lives and our mental health.
Source: WalletHub
The site reports that 4 in 10 adults have symptoms of depression or anxiety, proving that we could all use some extra joy right now.
For the study, WalletHub sifted through "happiness" research to find out which factors are more likely to be linked to a person's happiness, overall well-being, and satisfaction with life. "Previous studies have found that good economic, emotional, physical and social health are all key to a well-balanced and fulfilled life," the site wrote.
Given those parameters, WalletHub compared the states across a few critical dimensions that all center around happiness. This includes community and environment, work environment, and emotional and physical well-being.
"We evaluated those dimensions using 31 relevant metrics, which are listed below with their corresponding weights," the site explains. "Each metric was graded on a 100-point scale, with a score of 100 representing maximum happiness."
From there, they took the 31 metrics, and each was graded on a 100-point scale, with 100 pointing to the maximum happiness. From there, each state was given a weighted average to calculate its ranking, and all the information was put into map-form with the darker the blue, the happier the state is.
Source: WalletHub
The results show that one state stands out above the rest: Utah, with a total score of 72.94 out of 100. The state ranked highest for both work environment and community and environment. In second place comes Minnesota (67.52), followed by Hawaii (66.16). Rounding out the top five for happiest states is California (63.82) and North Dakota (63.25)
The lowest rated states for happiness all seemed to be in the south, with West Virginia landing in the last spot with a total score of 34.05, which landed close to the bottom in both emotional and physical well-being and work environment. In 49th place was Arkansas (37.47), followed by Louisiana (38.88). Rounding out the bottom five happiest states, or rather, the least happy states were Mississippi (39.90) and Oklahoma (40.43).