This Map Shows America's Favorite Valentine's Day Candy. There's A Clear Winner
Life *is* like a box of chocolates, and some candy hearts, too.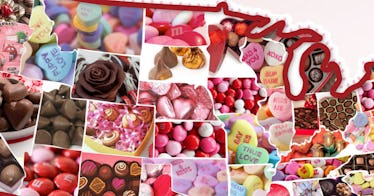 CandyStore.com
Have you ever wondered what your state's favorite Valentine's Day candy is? Or the whole of the United States? Well, look no further, because we finally have the map to prove it.
Any reason to celebrate is a good enough reason – and we could all use more ways to find joy. With Valentine's Day just around the corner, it's time to start planning what to get for the person or people we cherish in our lives. While other holidays have big extravagant planning, this romantic one really just centers around two things: flowers and candy. While there's not a lot of pressure on this day, not all candy is equal, and there's one candy that's favored most across the country.
This year, plans will be different for Valentine's Day as most of us are still being asked to stay home thanks to the global virus. According to CandyStore.com, "spending on candy is set to go up as a percentage in lieu of a night out, and the total could be above $2Billion nationwide."
While overall spending for this holiday is estimated to go down, the sale of candy is projected to increase by 2%. But what candy are people going for this Valentine's Day? It varies by state, but two candies seem to hold the top spot for America's favorite Valentine's Day candy.
"Using sales data from the past 13 years from our online bulk candy store and industry partners," the site was able to narrow down which Valentine's Day candies are favorite in each state and which is currently holding on to the most popular across the United States.
Source: CandyStore.com.
The winner? Heart-shaped boxes of chocolates took over for conversation hearts, which held the top spot for a long time. Conversation hearts really only come around during the six weeks leading up to and just after Valentine's Day. Still, it's had a rough couple of years. There weren't any available for sale in 2019, which might have skewed results against the candy king. Only a limited amount are available for sale in 2020, but still, it holds the second spot for the most popular Valentine's Day candy.
It looks like chocolate is king these days, with many states having M&M's, Hershey's Kisses, boxed chocolates, and more as their most favorite sweet V-Day treat. But candy necklaces did show up in Alabama, a shocking but interesting development.
Some second and third-place candies included cinnamon bears, the aforementioned candy necklaces, and cupid corn.
While most of us will be sitting at our own dining room table for a romantic meal this year instead of a candle-lit restaurant, at least we can always count on our favorite candy to pull us through whatever we're going through.