This U.S. Map Shows You Where Egg Prices Have Skyrocketed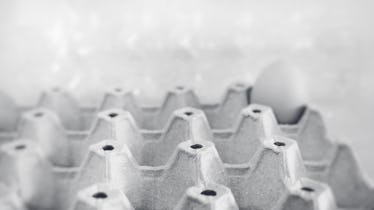 Shutterstock
It's no secret that inflation has driven up basic living costs. And though the pace of inflation has slowed, parents are still feeling the pressure. For many Americans, the rising cost of food staples has been one of the hardest items to budget around. Just think of the cost of eggs, for example.
According to Consumer Price Index data, the average price of a dozen eggs more than doubled in 2022, going from an average of $1.78 per dozen to $4.25. The reasons for this explosion in price is myriad — inflation, supply chain challenges, and a bird flu. Some experts have even called on the Federal Trade Commission to look into whether egg manufacturers are engaging in price gouging. Either way, one thing is true: Eggs are expensive.
But averages leave out the outliers, and some places across the United States have felt the heat of rising egg prices more than others. So are you lucky? Or are you clucked? Luckily, there's an interactive map showing just how much a dozen eggs would cost you based on where you live.
The new map, created by a developer named Sacha Fournier, compares egg prices at Walmart stores across the U.S. It should be noted that these are egg prices at just Walmart stores — one of the largest chains in the country, to be sure, but just one store brand — so takeaways are limited. The data is updated hourly.
At the time of writing this, the cheapest eggs are Great Value Large White Eggs brand sold at the Walmart in Grove City Store in Pennsylvania, selling for $1.82 per dozen. On the opposite end, the city with the most expensive Great Value Large White Eggs sold at a Walmart is Woodland Neighborhood Market in California, selling for $6.96. Great Value is a Walmart brand.
The data on egg prices is also available in chart form, and the numbers are broken down to the average, real-time cost of eggs per state.
The 5 states with the most expensive eggs, on average:
Colorado $3.32
Texas $3.24
Montana $3.14
California $3.19
Idaho $3.02
The 5 states with the least expensive eggs, on average:
Hawaii $2.87
Massachusetts $2.87
Washington $2.78
Maine $2.80
Rhode Island $2.75
Of course, it's important to remember these price points will jump around as the data is updated, and prices may vary in-store locally. And, once again, this map really only shows how much eggs cost at one superstore: Walmart. What you might see at Target, or your local grocery store, or Whole Foods may vary, especially when other egg producers are in the mix.
In any case, it's an interesting map to dig around to see what greener (or worse) pastures might look like.
To see the full interactive map, visit Eggspensive.