This Map Shows the Most Popular Easter Candy in Each State
The top two favorite treats run the show with 88 percent of all the votes.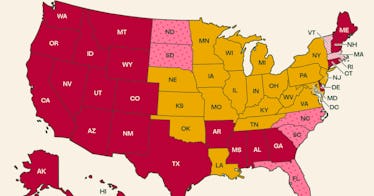 Provided by Instacart
When we think about holidays that revolve around candy, there's one that tends to get the most spotlight. But Easter candy deserves to get as much love as the spooky treats, and it's impossible to go wrong with marshmallows, peanut butter and chocolate, and bunny or egg-shaped candies. But have you ever wondered which Easter treat is the best of them all? We know the answer.
We know that Easter is more than just sugary sweets. It's about gathering with family and making memories with the kids. But between jellybeans, bunny-shaped marshmallows, and the beautiful combo of peanut butter and chocolate, it's impossible to deny it's one of the best holidays for tasty treats. Of course, it's hard to choose a favorite – we love them all – but a new map shows that some are more regionally loved treats than others, according to Instacart.
On behalf of Instacart, Harris Poll conducted an online survey, polling 2,067 adults in the United States to find out their favorite Easter candy. The poll was conducted on March 29-31, 2022, and sorting through the data, they were able to find out which candy was the favorite in each state – and which candy took home top rank for the whole country.
Looking at the data, it's evident that two Easter treats are favored far above the rest across the country. Cadbury Easter Crème Egg took home the top spot in the country, winning favorite in 24 states – primarily all on the West Coast. Reese's Peanut Butter Eggs ranked second, taking the top place in 20 states, dominating the Midwest and East Coast.
Other candies that made the list of top treats include Starburst Easter Jellybeans, a favorite in five states, including Florida, North Dakota, and South Carolina. Cadbury Chocolate Mini Eggs were a favorite in Massachusetts and Vermont. Other treats that made the list include PEEPS, Hershey's Kisses, and M&M's
Instacart also wanted to find out which candy was the favorite to buy leading up to the Easter holiday.
Using data collected from Instacart purchase data, these are the top-purchased candies in the weeks leading up to Easter:
Cadbury Easter Creme Egg
Reese's Peanut Butter Eggs
Starburst Easter Jellybeans
Cadbury Chocolate Mini Eggs
Hershey's Milk Chocolate Kisses
M&M's Easter Milk Chocolate Candy
Lindt Milk Chocolate Bunny
Brach's Jelly Bird Eggs
PEEPS Yellow Marshmallow Chicks
Hershey's Milk Chocolate Candy Eggs
For more details and fun Easter candy stats, check out Instacart's complete breakdown. And we hope you all have a happy Easter full of lots of family time and sweet treats.