Map Shows The Average (And Ridiculous) Cost Of Child Care In Every State
The pandemic has not helped the child care cost crush — but some places are more affordable than others.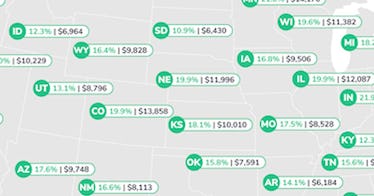 move.org
This year has been devastatingly challenging for so many people. For parents in particular, who have lost their support circle of friends and child care and school over the year, it's been particularly tough. The lack of child care, specifically, has driven moms out of the workforce in droves. As the world returns to normal and child care ramps back up, this new map shows that the average cost of child care is still absurdly high in many states.
Looking at data from the US Census Bureau and Economic Policy Institute, Move.org calculated the average cost of child care and compared that to the average income in each state. They also took it a step further and surveyed parents to determine how the pandemic affected them and their child care options.
"On average, infant child care costs $216 a week, which is 17.1% of the national median household income," the site says, according to the data analysis. "Infant care in the US costs anywhere from 10.9% of household income—like in South Dakota—all the way up to 26.3% of household income in Washington, DC. Even at the low end, that's no small part of your income," they explain further.
The site states that care for infants is typically more expensive than it is for older kids, "For example, national average daycare prices for 4year-olds are a bit cheaper at $175 per week or 13.9% of the median income."
Ask any parent in the United States about child care, and they will likely speak on how expensive it is. Some states appear more affordable on paper if we just take into account the money spent. But, once we factor in that median household income per state, it becomes clear pretty quickly that child care, as a whole, is very expensive.
According to the analysis and the map, the most expensive state for child care in the District of Columbia, where infant care costs roughly $21,678 a year, or approximately 26% of the median household income in the state. Rounding out the top three includes Massachusetts, costing 18,004 per year or 24% of the median household income, and Indiana with a cost of $14,210 a year or 21.9% of the median household income. An interesting note looking at the topmost expensive states for child care are in the East and Midwest, except for California.
The more affordable states include South Dakota ($6,430 or 10.9%), Alabama ($5,593 or 11.6%), and Mississippi ($5,110 or 11.9%). "Six out of the 10 most affordable places for child care can be found in the South," Move.org points out.
According to the survey Move.org conducted, an overwhelming amount of parents said they believe child care could be more affordable (80%), 44% of parents admitted they left the workforce during the pandemic due to the cost of child care, and 65% of the parents who participated said they would have more career options if child care was more affordable.
So, what are parents supposed to do with this information other than saving up before getting pregnant and hope to save enough away in the bank to ever be able to work again once we have kids?
The Biden Administration signed some child care relief into the $1.9 trillion relief package signed in March 2021. The funds are said to help child care programs stay open or reopen if they closed during the pandemic. It's also set to make it easier for some parents to return to paid work.
"No one said parenting would be easy, but having more affordable child care could make a huge difference," Move.org notes. "And while the pandemic continues, working families are feeling extra stress."