Mandy Moore Just Stood Up For Her Kids in The Best Way Possible
Mandy is one of many celebrity parents who are calling out paparazzi for harassing their kids.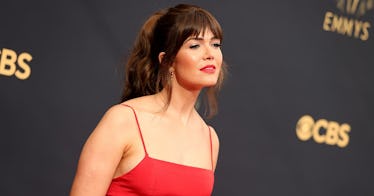 GETTY
Lots of celebrities have long been vocal about their privacy concerns when it comes to their kids — from Mindy Kaling to Dax Shepard and Kristen Bell or Ryan Gosling and Eva Mendes, many celebrity parents are opting not to share their kids with the world. Now Mandy Moore is the latest to push back after she spotted a man following her and her child for the second weekend in a row. Mandy took to social media to confront the paparazzi and demand they do better.
On November 28, the actress released a statement after she was interrupted on a Sunday walk with her son 10-month-old son August for the second week in a row.
"To the paparazzi dude who just tried to join me and my son on our walk for the second Sunday in a row you can kindly f–k off," Mandy wrote on a post she shared to her Instagram Stories. She also referenced her husband and August's dad, Taylor Goldsmith, and their dog, Jackson, who is battling cancer.
"Same dude that harassed Taylor and I when I was 10 months pregnant," she continued, "and Jackson was in the hospital fighting for his life."
Mandy knows that with her being a celebrity, there is some expectation of people taking an interest in her life. But there's a line and she feels the paparazzi are crossing that line. "I know my line of work puts me in a position for this kind of stuff but go find someone who courts it, ya know?" she continued. "We live in a quiet part of town for a reason. you weren't invited to tag along on my day."
In a follow-up story, Mandy shared that her dog was upset after the walk because they were only able to walk for one block before needing to turn around and head back home. That stinks for her dog and it stinks for Mandy, who must be made to feel on high alert when just trying to go on a walk with her kid.
Mandy is one of several celebrity parents who have been vocal about how paparazzi chasing them when they're out with their kids is going too far. Blake Lively, who has a mom to three girls, has issued several statements on social media demanding men stop "stalking and harassing" her kids by trying to take photos.
Kristin Bell is another mom who has spoken out, too. Telling Entertainment Tonight in 2014, "Picture what it would be like walking down the street with your child, whether it's trick or treating or just to school, and have 10 aggressive men taking their picture with a lens in your face, yelling, pushing other children outside of a school."