Man Found Camping On Abandoned Disney Island
Talk about a camping trip!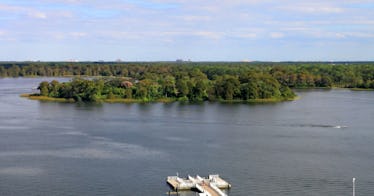 Steven Miller/Flickr
42-year-old Mobile, Alabama man Richard J. McGuire likely had the camping trip of his life as he explored Disney's World's Discovery Island — a zoological park that has been abandoned since 1999, for over 20 years. When Discovery Island was in its heyday, the 11-acre park had a variety of plants, flowers, and aviaries with more than 500 species of birds. It also had a flamingo lagoon, a turtle beach, and an alligator swamp. It was in operation for 25 years before Disney shuttered the operation.
McGuire was caught trespassing at the park, (all of Disney's properties have been closed due to COVID-19), after the Orange County, Florida sheriff's deputy got a report of a trespasser on the long-abandoned island. The deputies launched an all-out search for the camper on foot, in boats, and from helicopters. They also tried to reach him by going on a PA system telling him he was trespassing. McGuire said he hadn't heard the helicopters as he was asleep in a building on the island. When they caught McGuire, staffers were helping McGuire get to the shore from his boat.
When the police told him that the island was private property, McGuire said he was unaware and noted that the island looked like a tropical paradise. According to officials, McGuire would have had to pass several no trespassing signs and two closed gates in order to get to the island.
McGuire denied having been camping on the island and said that he wanted to check out the piece of abandoned land to record footage for his YouTube channel, where he is an urban explorer. McGuire has been charged with a misdemeanor count of trespassing and is banned from all Disney properties for the rest of his life.