The World's Longest Underground Cave Is About To Get Even Cooler
And you can see it all for yourself.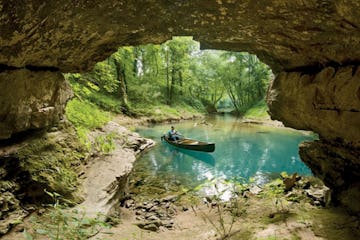 MCT/Tribune News Service/Getty Images
Kentucky's Mammoth Cave Park is known as the world's longest cave park — and even so, the full length of the massive cave has yet to be discovered. After all, in 2021, the underground cave, which is also a National Park, grew after the discovery of eight additional miles. Then a year later, an additional six miles were discovered, bringing its total to an impressive 426 miles.
But now, Mammoth Cave National Park could get even bigger after Rep. Brett Guthrie, a Kentucky congressman, introduced a bill to expand the National Park, according to WLKY News. The bill, called the Mammoth Cave National Park Boundary Adjustment Act, is backed by Senate Minority Leader Mitch McConnell and was presented to the U.S. Senate and House.
The overarching purpose of the bill is to protect wildlife, preserve cultural heritage, and bring additional tourism to the park. The bill aims to add an additional 980 acres of land to the park, which would include the Green River watershed. The bill would also add two more cave passages to its property.
"As the world's longest known cave system full of biodiversity and history, Mammoth Cave National Park is not only a treasure to the Commonwealth of Kentucky, but also a treasure to the entire world," Guthrie said, per WLKY News.
"After discussions with Mammoth Cave National Park leadership and the local community, I introduced a bill to allow the park to acquire specific land to put cultural heritage artifacts and habitats under the care and expertise of the Mammoth Cave National Park Service," said Guthrie.
According to Kentucky Tourism, Mammoth Cave has more than 400 miles explored and mapped. Mammoth Cave saw more than 650,000 annual recreational visitors in 2022, according to National Park Service data.
Mammoth Cave National Park is more than just home to the longest cave system in the world. There's so much to do for families, including cave tours, ranger-led programs, biking, horseback riding, and canoeing through almost 53,000 acres of land.