Malls Across America Are Reopening This Week: How, Why and Where
Here's what you need to know.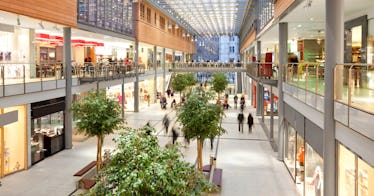 While there are still several hundred million Americans under lockdown and shelter-in-place conditions for the foreseeable future, there are a handful of states that have already begun re-opening their economies or whose shelter-in-place designations are set to expire soon. States like Alabama, Ohio, Missouri, Montana, Iowa, and Texas are reopening parts of their economies this week, while Minnesota, Mississippi, Tennessee, Colorado, Alaska, Georgia, Oklahoma, and South Carolina have already partially reopened their businesses and non-essential companies.
In some states like Alaska, Arkansas, Texas, and Indiana, among others, malls, in particular, are set to reopen this week. Simon Property Group, which is the biggest US mall owner, is currently preparing to open 49 of their malls across the country this week to customers and consumers. Here's how, why, and what might happen.
How Malls Will Reopen (Safely?)
Every state has different guidelines for the businesses that they are currently re-opening. For example, in Texas, restaurants can operate at 25 percent capacity. Retail businesses, movie theatres and malls will open on Friday, but can only serve up to 50 percent of their regular capacity and the retailers can offer in-store pick-up. Malls in Texas will not open food courts, play areas, or any interactive displays that many people might touch.
For the Simon Group's part, they have stated they will be providing CDC-approved masks and hand sanitizer to consumers who are at malls and who ask for them. They're also making temperature testing available using infrared thermometers.
The Simon Group malls will be open from 11 a.m. to 7 p.. Monday through Saturday and from noon to 6 p.m. Sunday, which represents a shortening of hours from the before times. Malls will be cleaned overnight and highly-touched surfaces will be regularly sanitized. Simon will also mandate its employees to wear masks and take frequent breaks for washing their hands. They'll also put tape over every other sink and urinals to encourage social distancing in the restroom, put decals on the floors to direct safe traffic flow, limit food court seating for states that are allowing food courts to open, and will encourage retailers to use Apple Pay or other contactless transactions.
The malls are also allowing retailers to decide when, or if, they will reopen. While many companies are struggling to make rent (Gap didn't pay rent for this month) or sell their inventory, there is the undeniable fact that many consumers simply won't feel safe returning to shopping malls or leisurely outings for quite some time. That, and given how many millions of Americans are out of work, might also limit the purchasing power of Americans.
Where The Malls are Reopening
49 malls owned by the Simon group are re-opening this week in Alaska, Arkansas, Georgia, Mississippi, Oklahoma, South Carolina, Tennessee, Texas, Indiana, and Missouri. Other businesses across those states will also slowly re-open as states go through their re-opening protocols.
Concerns About Them Reopening
Public health experts have sounded the alarm of the deleterious effects of opening the economy too early, which could trigger a second wave of COVID-19 infections and cause a spike in hospitalizations and preventable deaths.
There's also something to be said about the fact that governors and states are using the time to re-open to limit unemployment benefits to those who were previously eligible due to COVID-related job losses. Iowa and Texas are both detailing plans to remove people from unemployment whose businesses have re-opened, even if they do not want to return to work due to concerns about their safety.