Macaulay Culkin Wears 'Home Alone' COVID Mask Of His Child-Self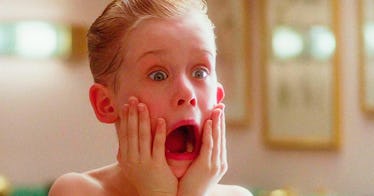 Hughes Entertainment
Let's face it: none of us would wear face masks if it wasn't the responsible, caring thing to do. But we do, because they're essential to help to reduce the spread of the virus, and because it's the best way we can protect ourselves and others against COVID-19. So, while we have to wear them, we might as well have fun with it. That's exactly what Macaulay Culkin has done, and we can't stop laughing.
Most of us know Macaulay from the '90s movie Home Alone. We grew up watching it and have re-watched the movie several times since with our kids. He played homage to his iconic role and turned it into a hilarious face mask of his child-self.
Posting to Instagram, the actor used humor and a cleverly printed face mask to encourage and remind everyone to wear their masks. "Just staying Covid-safe by wearing the flayed skin of my younger self," he wrote. "Don't forget to wear your masks, kids."
The face mask featured an image of himself—specifically the lower half of his face—with his mouth wide open and prints of his hands on his cheeks. It's a play on the hilarious scene in the movie where Kevin, the character Macaulay played, shaved for the first time (which is a joke in and of itself) and slapped his face with after-shave, feeling an intense, burning pain he'd never felt before.
The mask lined up hilariously well with his adult face, and it's impossible to not giggle looking at it. Which is likely why the post went viral with 349,000 likes. It also received 127,100 retweets when he shared the same post on Twitter.
Macaulay isn't the only famous person who has found humor in these funny-printed face masks. Shaquille O'Neal posted a photo of him wearing a facemask of himself, and the same company printed masks up with the lower half of Ellen DeGeneres' face as well.