The Lyrid Meteor Shower Peaks Tonight — Here's How to Watch
You could end up seeing hundreds of shooting stars.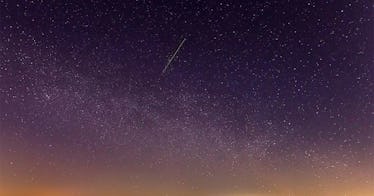 Getty
The Lyrid meteor shower, one of the oldest known meteor showers, has begun to reach its peak in the United States and if you want to get a good look at it while it's peaking, you are going to want to check it out tonight, Thursday, April 22nd, 2021.
While the Lyrid meteor shower is considered to be among the most unpredictable and weakest meteor showers, with the right planning, you should be able to get a good look at the shooting stars from the shower.
Here's what you need to know in order to get the best viewing experience possible.
Technically, the Lyrid meteor shower began on April 16 but it reached the beginning its peak on Wednesday night, which will last through tonight, Thursday, April 22nd, before it gradually starts to fade, ultimately disappearing by April 25. This means that tonight you will have the best view of the tail of the comet C/1861 G1 Thatcher passing through the earth's atmosphere, which causes rocky debris to burn up in the Earth's atmosphere and results in a meteor shower.
So when is the best time to see the Lyrid meteor shower while it's peaking? There's not an exact time, as Lyrid is considered one of the most unpredictable and weakest meteor showers, as even on peak nights there may only be 10-20 shooting stars in an hour. However, there are also times where watchers have seen over 100 shooting stars per hour, so if you are willing to be patient, it could pay off with some truly awesome stargazing.
According to EarthSky's guide, the peak viewing hours will be between midnight and dawn, as the darkness of the sky will allow you to get the best look at any shooting stars. If that's past your bedtime, KATU's Dave Salesky says that you can get a good view anytime after 10:30 pm. You don't need any special tools or equipment, just try to find a nice, comfortable spot away from too much artificial light, which unfortunately may exclude city folk from getting much of a view.
This article was originally published on