ICYMI: Olympian Swimmer's Family Freaks As She Wins Gold
This viral video is what the Olympics are all about.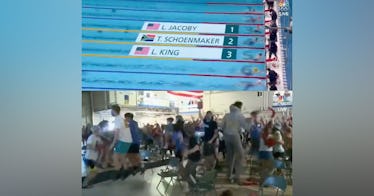 Lydia Jacoby won the gold medal in the 100-meter breaststroke at the Tokyo Olympics yesterday, and a video of her friends and family watching her performance has gone viral for capturing the genuine pride and joy that you can only feel cheering on someone you care deeply for.
The video features Jacoby's come-from-behind win while simultaneously showing a room full of supporters back in Seward, Alaska, which is the 17-year-old's hometown. Despite her being halfway around the world, everyone watching her back in her hometown is cheering like they are in the stands watching her swim. And the video even shows her parents, Richard and Leslie, bursting with pride in Tokyo as their daughter won an Olympic gold medal.
As she begins to gain ground on South African swimmer Tatjana Schoenmaker, the crowd starts to go absolutely nuts watching her swim towards Olympic gold, with many jumping up and down and slapping the floor in support. By the time she touched the wall and secured her first-place finish, it was all-out pandemonium as everyone was hugging and screaming after watching Jacoby's incredible performance.
Less than 3,000 people live in the town of Seward and the only 50-meter pool in the entire state of Alaska is 120 miles north in Anchorage. But with the support of her town and her tireless work ethic, Jacoby said she knew she could pull off the swim of a lifetime.
"I was definitely racing for a medal. I knew I had it in me," Jacoby told NBC News after her win Tuesday. "I wasn't really expecting a gold medal, so when I looked up and saw the scoreboard, it was insane."