Luke Skywalker Has Four Dads, Mark Hamill Reveals
Luke, we are all your father!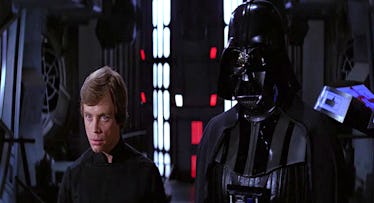 Photo credit: Lucasfilm
The most famous father in science fiction is without a doubt, Darth Vader. Of course, Vader was previously was known as Anakin Skywalker before he turned to evil and got a bunch of his limbs chopped off next to a lava lake. But, the most interesting feature of the character is probably the fact that he's the only sci-fi dad who is played by multiple actors, sometimes simultaneously.
This week, the best IRL Star Wars dad of them all, Mark Hamill, tweeted a fantastic image of four actors who brought Darth Vader to life in the Star Wars movies: David Prowse (the body), James Earl Jones (the voice), Bob Anderson (the stuntman), and, of course, Hayden Christensen, the guy who played young Anakin in Episode II and Episode III. It's a touching and sweet montage, complete with Hamill posing with each of the four actors, punctuated with the hashtag #HowIMetMyDads.
However, though Hamill's tweet is awesome, there are way more than four people who have played Darth Vader over the years.
In addition to David Prowse, James Earl Jones, Bob Anderson, and Hayden Christensen, there's also Jake Lloyd (Anakin in Episode I), not to mention Spencer Wilding and Daniel Naprous, the guys who played Darth Vader in Rogue One.
But there's more! For pick-up shots in Episode III, Gene Bryant played Darth Vader very briefly, while Andrew Nelson played Darth Vader in various nineties Star Wars video games and in one scene for the Special Edition of The Empire Strikes Back in 1997. Also, Brock Peters (famous for being in two Star Trek movies) played Vader's voice in the Star Wars radio plays in the '80s. Plus, don't forget, Sebastian Shaw played old Anakin under the mask in the original version of Return of Jedi in 1983.
Phew. So, does Mark Hamill/Luke Skywalker have four dads? Actually, he's got eleven, at least!
Darth Vader and Luke Skywalker are not expected to appear in Star Wars Episode IX in 2019. But, because they both could show up as ghosts through the Force, you never know.
This article was originally published on