Watch Ludacris Lose His Mind When His Kids Won't Stop Spelling 'Fart'
"Daddy, how do you spell fart?"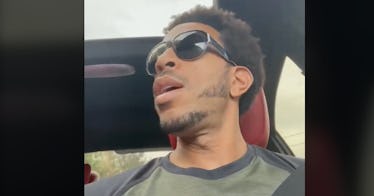 ludacrisdtp/tiktok
Ludacris may be one of the biggest rappers in the world, but the father of three revealed on TikTok that when it comes to parenting, he is just as powerless as everybody else.
In a viral TikTok where Ludacris is driving his children in a car around, Luda showed just how much of a regular old dad he really is. At the very beginning of the video, which is focused on his face only, you can already see the look of annoyance on Ludacris' face as one of his kids (whose faces aren't shown) asks him if they have the correct spelling of fart.
"Daddy, how do you spell fart?" one of his daughters asks, off-camera. "F-A-R-T?"
"Yes, but why are y'all spelling fart?" the Fast and Furious actor asked.
His kids then began giggling, with one celebrating their perfect spelling with a made-up song that Ludacris might want to consider sampling on his next album. The moment could have passed but then his kids ask him how to spell fart again.
"Yes," Ludacris replied, visibly frustrated by how long this has been the topic of conversation. "Why are we spelling fart?"
His daughter then begins to offer up her alternative way of spelling fart and Ludacris tries to nip this conversation at the bud.
"Let's not spell fart anymore. Don't do it."
But his kids, of course, do not listen and continue to pontificate on the spelling of fart. By this point, you can see the frustration reaching a boiling point on Ludacris' face, and inevitably, their flatulence-based discussion manages to break him.
"Alright, that's enough," Ludacris says through his kids' incessant laughter.
"Hey, hey, hey. That's it. No more fart. I don't even want to hear the word fart. If 'f' comes out of your mouth, I'm putting you on punishment."
It appears that his final attempt actually worked but the look on Ludacris' face at the end of the video is one every parent has seen in the mirror thousands of times: hilarious, and endearing, total and utter defeat. His relatable moment of parenting proved to be a hit on TikTok, as the video has received nearly two million likes.
This article was originally published on