Heartbreaking, Funny, Loving Obituary For 'Dead Sexy' Dad Goes Viral
"We are not positive, but we think the cause of death was either leukemia or more likely being 'dead sexy.'"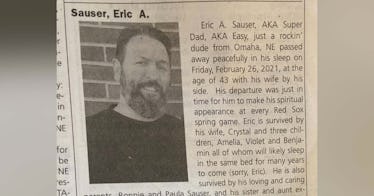 A loving dad who battled cancer sadly passed away. But his legacy will be remembered for a long time thanks to the now-viral obituary written by his wife. It's clear the two had a playful relationship, and now, Eric Sauser will forever live on as the guy who was embarrassed by his notice of death.
According to Good Morning America (GMA), 43-year-old dental technician Eric was married for 13 years to his loving wife, Crystal. Together they had three children, 5-year-old Benjamin, 9-year-old Violet, and 11-year-old Amelia. On February 26, 2021, Eric died after a two-year fight with cancer.
Through the grief, Crystal wanted to honor her husband in the best way she knew how. She wrote a notice of death for Eric, which was published in the local paper. And what she wrote stood out so much that photos of the local newspaper, and the obituary she wrote, went viral on Twitter.
Crystal shared that her husband wasn't the standard obituary – in fact, she went out of her way to make sure it wasn't just a template write-up.
She told GMA that after her husband died, she went to the mortuary to view obituary templates. After reading over several of them, she didn't feel connected to any of them. So, she went in her own direction, with the same humor that got them through the challenging times.
"Eric A. Sauser, AKA Super Dad, AKA Easy, just a rockin' dude … passed away peacefully in his sleep on Friday, February 26, 2021, at the age of 43 with his wife by his side," the obituary began. "His departure was just in time for him to make his spiritual appearance at every Red Sox spring game. Eric is survived by his wife, Crystal, and three children, Amelia, Violet and Benjamin, all of whom will likely sleep in the same bed for many years to come (sorry, Eric)."
The write-up continued, joking about the fact that Eric likely wasn't sober even when he said he was. And he loved his "smoking hot wife, his brilliant kids and family, his many friends, the Boston Red Sox, the Kansas City Chiefs (before being a Chiefs fan was cool), the Huskers, Liverpool Futbol, QT iced tea, Adidas sneakers, fishing, backpacking, hiking, hunting, and any old Chevy he saw on the road."
Ending, it read: "We are not positive, but we think the cause of death was either leukemia or more likely being 'dead sexy.' Eric, we've always loved you and miss you already."
Humor is rarely used in obituaries, and that what makes this one stand out. Also, Eric sounds like he was an amazing man, and Crystal hopes he got a smile out of the obituary, too.
"I think his face is so red," Crystal said to GMA about how she thinks Eric would feel about going viral. "He's completely embarrassed by me saying things [in the obituary] like, 'He's dead sexy,' but he would be so happy that he wasn't cookie cutter."
Godspeed, Eric.
This article was originally published on