These 30 States Will Get $300 A Week In Extended Unemployment Benefits
Some states are offering more, but the benefits aren't promised for long.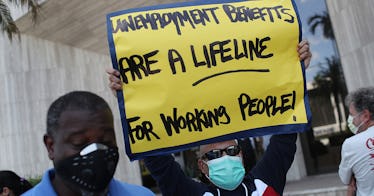 Getty
The past few months have been challenging for millions of Americans as the pandemic wages on. Thousands have lost their jobs and have been relying on unemployment checks to be able to keep food on the table and pay their bills. For many, the amount given each week is barely enough – if it is – to cover those costs and people are struggling. But there may be some help on the way with a new "lost wages assistance" program.
According to CNBC, 30 states have been approved to receive federal funding in a new program called "lost wages assistance" program. The plan was created through an executive measure signed on August 8, directing federal disaster-relief to unemployment workers.
Workers who are eligible for the aid will receive an additional $300 a week, on top of their current unemployment benefits, which was approved to help cover workers following the end of the CARES Act, which had been available from March through July.
For workers to be eligible for the additional lost wages assistance program, they have to take an extra step to self-certify that they are unemployed or partially unemployed due to the pandemic. Workers can do this through their online portals, and there's no need to apply separately to the new program.
If you live in Kentucky, West Virginia, or Montana, officials have approved an additional $100 in the program from their federal coronavirus relief fund, for a total of $400 a week per worker, though other states may follow suit.
The states that have been approved for the program so far are:
Alabama, Alaska, Arizona, California, Colorado, Connecticut, Georgia, Idaho, Indiana, Iowa, Kentucky, Louisiana, Maryland, Massachusetts, Michigan, Mississippi, Missouri, Montana, New Hampshire, New Mexico, New York, North Carolina, Oklahoma, Pennsylvania, Rhode Island, Tennessee, Texas, Utah, Vermont and Washington state.
However, the remaining states may choose to apply to be included as well.
More money for the people who need it is a good thing, and $300 or $400 is better than nothing, though far less than people were able to receive through the CARES Act.
It's important to note that so far, the lost wages assistance program has only been guaranteed to the states for three weeks of funding—before moving to a week-by-week evaluation.