Los Angeles School Board Pushes For Student Vaccines — Parents Respond
In hopes of keeping the schools open amid rising COVID numbers, the school board has voted in favor of a vaccine mandate.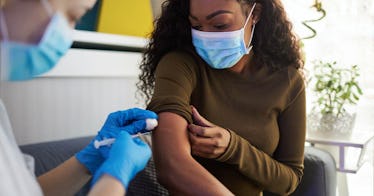 Experts have been vocal about the need for more people to get vaccinated against COVID-19. It's touted as our best defense against the pandemic. In addition, it will help ensure the schools stay open, especially for kids too young to get vaccinated. Now, the Los Angeles Unified School District is pushing for mandatory vaccines for those eligible to get the jab, including teachers and students. Here's what you need to know.
According to CNN, the school district officials are focusing on safeguarding the school year, hoping that kids can attend in-person classes instead of online. Their best bet in doing so includes vaccines, experts say.
"Ultimately, we want our schools to stay open, and the best way to ensure that is to have as many people as possible who are in our schools vaccinated," said Cecily Myart-Cruz, president of United Teachers Los Angeles, the union representing teachers.
So, the school board proposed a policy-making vaccinations mandatory for eligible students 12 years of age and older. And it passed with a unanimous vote, requiring kids to receive their first dose of COVID-19 vaccination by November 21 and be fully vaccinated no later than December 12. However, suppose students want to play sports and other extracurricular activities. In that case, the deadline to be fully vaccinated is earlier, requiring the first dose by October 3 and the second dose by October 31.
Children who don't get vaccinated and don't have a valid exemption won't be permitted to attend in-person classes but may be enrolled in the school board's online Independent Study Program.
"As the second-largest district in the country, with a richly diverse student population, we know the impact and experiences of COVID-19 are varied amongst our students and our families and that there are different levels of comfort and discomfort with the vaccine and other COVID-related safety measures," Interim Superintendent Megan Reilly said.
There are still many parents who are anti-vaccine or vaccine-hesitant, and some have voiced opposition to this new mandate. "We must be the ones who decide for our children, not the district, not anyone else," Carla Franca, a parent with kids attending school within the Los Angeles Unified School board, said, according to CNN. "If you want to take your own children to the killing fields, you do it, but you are not the one who should be deciding," she said. "When you have your own kids, you can make your own crazy decisions."
Other parents were relieved to have this measure in place. Board member Jackie Goldberg believes the mandate was an important step. "It's our moral, ethical, political – pick a word – it's our responsibility to protect the children under 12 that cannot get protected any other way," she said while urging other board members to support the mandate.
According to recent data released by the American Academy of Pediatrics (AAP) and the Children's Hospital Association, the spread of COVID-19 in schools is surging with more than 250,000 new cases of pediatric cases, which is the most significant jump since the pandemic began.
This article was originally published on