Loneliness Can Damage Health — But There's An Incredibly Simple Fix
A new study found that having a face-to-face conversation with a friend (or picking up the phone) can help lower your levels of stress, loneliness, anxiety, and more.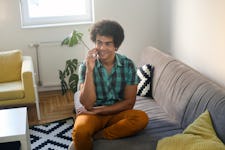 GoodLifeStudio/E+/Getty Images
At a time when communication with anyone around the world is available at the click of a mouse or the tap of an icon, and when the majority of Americans have a phone in their pocket at all times, paradoxically, we are lonelier than ever before. Experts estimate that around 60% of Americans regularly feel lonely, and even before the pandemic lockdowns, people were spending less time socializing with friends.
The health implications of decreased social connection go far beyond just feeling lonely or sad. There are physical pains associated with loneliness. People who report feeling lonely are more likely to experience stroke, dementia, and heart disease. U.S. Surgeon General Vivek Murthy compared the health impacts of feeling lonely to those of smoking 15 cigarettes per day.
Thankfully, new research shows there is a very simple way to boost feelings of social connection and decrease loneliness and sadness — literally just talking to a friend. A research study, led by University of Kansas associate professor of communication studies, Jeffery Hall, found that simply reaching out to a friend and having a quality conversation improved feelings of wellbeing.
The study followed 900 people from five universities, before, during, and after COVID-19 lockdowns, who were instructed to initiate communication with a friend and have one of seven types of conversation:
Catching up
Meaningful talk
Joking around
Showing care
Listening
Valuing others and their opinions
Offering sincere compliments
Study participants were told to record their number of interactions for the day and note their levels of stress, connection, anxiety, wellbeing, and loneliness, and to discuss the quality of their day in an end-of-day survey. Across the board, people who initiated any of the seven types of conversation reported more satisfaction than the "post hoc control group" comprised of participants who did not receive instruction due to tech difficulties.
The team also found that, although outcomes improved with more interactions, even one quality conversation was enough to have a noticeable impact on participants' moods.
"There's a lot of good research that says the number of interactions you have as well as the quality of interactions are both associated with being a less lonely, happier, and more connected person," said Hall. "This means the more that you listened to your friends, the more that you showed care, the more that you took time to value others' opinions, the better you felt at the end of the day."
Most participants reported engaging in face-to-face conversations, although texting, phone calls, video chat, and social media DMs were also reported. Face-to-face conversations had more favorable outcomes than digital communication, and frequency definitely played a role.
"The results demonstrate that while engaging in these episodes and behaviors to any extent is beneficial, engaging in them more frequently and face-to-face are independently beneficial," the authors wrote.
"The experimental design means that it's not just people who are already having fulfilling lives who have higher-quality conversations," Hall explained. "This study suggests that anyone who makes time for high-quality conversation can improve their well-being. We can change how we feel on any given day through communication. Just once is all it takes."